Kapit-Bisig Laban sa Kahirapan Comprehensive and Integrated Delivery of Social Services National Community-Driven Development Program (Kalahi-CIDSS NCDDP) organized a Press Conference to introduce the Program to its media partners. The recently conducted Press Conference was held right after a hand-over and ribbon-cutting ceremony in Burgos, Pangasinan.
The media partners were invited to witness and cover the hand-over ceremony of five completed sub-projects and then later opened the table for questions about the Program and its implementation. The discussion focused on the background of Kalahi-CIDSS and the Community-Driven Development (CDD) strategy.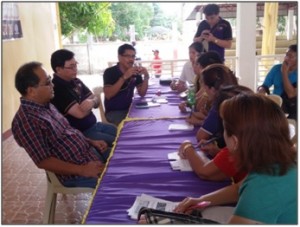 CDD is an approach where the power to decide, plan, and manage is given back to the community. Rather than just saying yes to the people seated in authority, they become partners and key players in implementing the Kalahi-CIDSS Program. Residents of the beneficiary barangays work voluntarily to execute the processes to finish their sub-projects­­­­– the solutions they have identified and prioritized themselves.
Department of Social Welfare and Development Regional Director Marcelo Nicomedes J. Castillo also emphasized that the main project of Kalahi-CIDSS is community empowerment through improved participatory local governance, increased access to basic services, and poverty reduction. It was also explained that the infrastructure projects are called sub-projects because these are the results of the hard work of the community members, that they gain rewards by uniting to participate in the Program.
The other queries and clarifications were answered by Burgos Municipal Mayor Alberto Guiang Jr. and the Kalahi-CIDSS Deputy Regional Program Manager Orson C. Sta Cruz.
Media partners from DZRD Sonshine Radio, DWRS, DWPR, Bombo Radyo, Manila Bulletin, The Philippine Star, The Sunday Punch, Manila Star, People's Digest, and Philippine Information Agency attended the said Press Conference. (Helen Veryan C. Valdez, Regional Social Marketing Officer, Kalahi-CIDSS NCDDP)