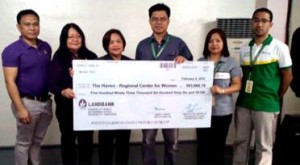 Residents of the Haven for Women who are victim-survivors of abuse will soon benefit from the Php 593,696.73 PhilHealth fun-run proceeds for their new nursery and breastfeeding room and upgrading of their medical clinic.
The check was recently received through OIC-Asst. Regional Director Nora D. de la Paz, who emphasized the sincere gratitude of the Agency and  assured the donors of the honest use of the proceeds which will go a long way in improving the services provided to the resident-clients.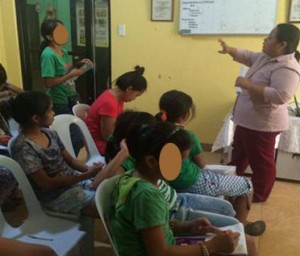 Also, the Integrated Bar of the Philippines- Pangasinan Chapter through Atty. Teodora Cerdan provided free consultation/ lecture series on filing of cases, rights and custody of children, grounds for annulment, and other related concerns.  This also provided information elaborating on their rights as provided by the law.
Dagupan City Health Medical staff and Pangasinan Medical Society also provided free laboratory tests, lectures on healthy pregnancies, and provision of free vitamins.
Currently, 21 women and 17 dependents are at the Center, wherein most of the cases are incestuous rape. These clients are also being provided with various rehabilitative activities and productivity skills development such as sewing, rug making, baking, and food processing.  (by: Iryn D. Cubangbang, IO II with report from Haven for Women )