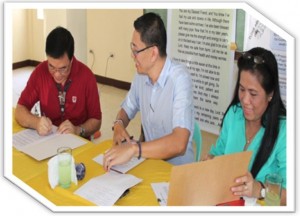 DSWD's monitored cases of elderly abuse led to the pilot testing of a Reporting System and Prevention Program for Elderly Abuse Cases (ReSPPEC) in San Carlos City for Region 1.
Violence against the elderly is defined as any elderly subjected to harmful behavior often inflicted by people who were entrusted to care for them, which may cause adverse effects on an elder's physical and psychological well-being. In many cases, physical violence results to injuries such as bruises, lacerations, and broken bones. All forms of elder abuse – may it be physical, emotional, sexual, neglect, or abandonment, healthcare fraud and financial exploitation – are illegal, and individuals who are responsible for this behavior shall be subjected to legal action.
ReSPPEC will institutionalize necessary procedures and protocols to prevent, protect, and report incidents of violence at the community level, similar to those established for victim-survivors of violence. This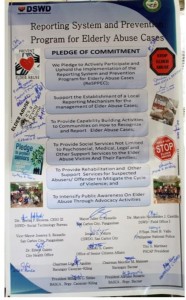 will reduce – if not totally eliminate – incidence of elder abuse through the development of a referral system, conduct of community prevention activities, and provision of necessary interventions for both the victim-survivor and the perpetrator. It will also lessen the abandoned and neglected senior citizens that will be referred to a long – term care facility.
In a recently held planning workshop facilitated by Social Technology Bureau together with the DSWD-FO1 and CSWDO staff of San Carlos City, they assisted the barangay councils and senior citizens of Barangays Bacnar and Caoayan-kiling in preparing their plans of action in the implementation of the project in their respective barangays.
Regional Director Marcelo Nicomedes J. Castillo shared that ReSPPEC will put into place our respect to senior citizens.
Through ReSPPEC, keyplayers and even ordinary people in the community are called to report cases of elder abuse and even encourage awareness about ReSPPEC. Also, he cited that the success of the program lies in not having reports on elder abuse but rather of having no cases of elder abuse; reported cases, if any, will be used for policy implication.
The City Government of San Carlos was first in Region 1 to implement the project hence its success story will always be told to and heard on by other LGUs that will replicate it. With this, preparing a beautiful and peaceful future for the elders is facilitated. (by: Iryn D. Cubangbang, IO II with report from Mary Grace Rendon, Social Welfare Officer III )