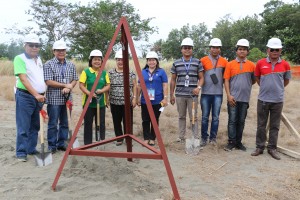 Time to break the ground!
After 16 years of waiting, the construction of the new building of Area I Vocational Rehabilitation Center (AVRC I) of the Department of Social Welfare and Development – Field Office I (DSWD-FO1) has already started. A groundbreaking ceremony was held on 6 April 2016 headed by DSWD-FO1 Dir. Marcelo Nicomedes J. Castillo together with Asst. Regional Dir. (ARD) for Administration Nora D. Dela Paz and AVRC I Training Center Superintendent II Elizabeth C. Manuel.'
According to Ms. Manuel, they have already been working since the year 2000 on the documents for the approval of the plan to move AVRC I to a safer place. The current location of AVRC I in Brgy. Bonuan Gueset, Dagupan City is hazardous since it is by the seashore. Thus, when typhoons hit, they always worry and evacuate their trainees comprised of persons with disabilities (PWDs), together with the employees working in the center.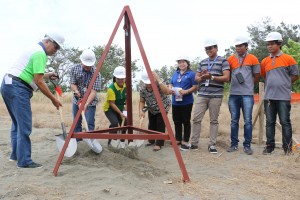 Ms. Manuel added that even the City Engineer of Dagupan advised them to relocate and coordinate with the Department of Environment and Natural Resources in identifying the lot for the new site of AVRC I.
Dir. Castillo said that after the construction of AVRC I Building-Phase 1, the employees and the trainees of the center can readily move in by March next year. He added that they have to make sure that the building has a strong foundation for the benefit of our brothers and sisters with disabilities. The center is not just for the benefit of Region 1; it also caters to PWDs from Regions 2, 3, and the Cordillera Administrative Region (CAR).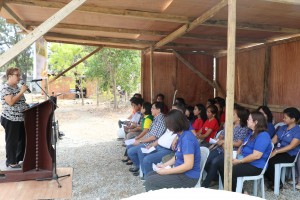 Further, Dir. Castillo thanked everyone who closely worked in accomplishing all the tedious processes required to start the construction of AVRC I. He likewise said that Phase 2 of the building still  needs work for funding, but that he hopes for the new AVRC I building to achieve its objective to help PWDs.
Meanwhile, ARD Dela Paz said that this groundbreaking ceremony is not just the start, the real big day will be on the inauguration of the AVRC I building with all the partners and residents of the center.
AVRC I is a training facility that provides rehabilitation programs and services to PWDs and other special groups for them to live purposive and satisfying lives. (by: Jaymante Pearl B. Apilado, Administrative Assistant III, NHTS-PR/Listahanan)