"Mabalin kayo apo nga makaala ti Listaan iti marigrigat, libre met daytoy, makipag-MOA (Memorandum of Agreement) kayo laeng ti DSWD (Department of Social Welfare and Development) (You can have the list of poor households for free, just enter into a MOA with DSWD)," Listahanan Information Officer Jaymante Pearl B. Apilado said during the Validation and Finalization Phase Exit Conference in Bagulin, La Union.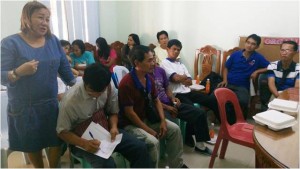 Apilado, together with National Household Targeting Unit (NHTU) Admin. Asst. III for Operations Bryan Arnold D. Tangalan and NHTU Area Supervisor (AS) Rhodora V. Rulloda, informed Municipal Social Welfare and Development Officer (MSWDO) Erlinda J. Ochoco, members of Local Verification Committee, barangay captains, and Pantawid Pamilya Parent Leaders that a total of 614 complaints were received in Bagulin during the Validation Phase.
Out of the 614 complaints, 502 are about re-assessment and households that are not yet assessed. The remaining 112 complaints are about minor errors like mispelled names, change of addresses, adding and removing household members.
Meanwhile, according to DSWD-Field Office 1 NHTU Regional Field Coordinator Joan M. Nuesca, the Local Government Unit of Bagulin already submitted a MOA with DSWD and she is also encouraging all regional line agencies, local government units, civil society organizations, faith-based groups, private sectors, people's organizations and registered organizations to enter into a MOA with DSWD if they want to have the list of poor households for their social protection programs and services. (Jaymante Pearl B. Apilado, Administrative Assistant III, NHTS-PR/Listahanan)