"There are 1,167 Pantawid Pamilya households not identified in the Listahanan database that are now currently being verified at National Household Targeting Unit (NHTU) Field Office 1 after the cross-matching of names in the system," says NHTU Regional Field Coordinator Joan M. Nuesca.
Nuesca added that upon receiving the list of households, she gave the list to the NHTU Area Supervisors (AS) for checking if indeed those households are in the database but with incorrect names.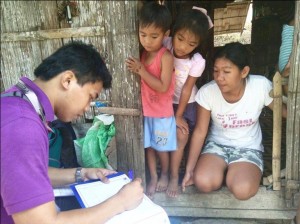 At present, out of the 1,167 households, 1,103 households are already located and assessed. NHTU found out that from the 1,103 households, 489 households are already in the database and the names are just mispelled, 6 households changed the names of Pantawid Pamilya grantees, and 608 households were assessed by the NHTU AS.
NHTU field staff also verified that the 40 households out of the 64 remaining unlocated households  have already transferred to other regions and 2 households refused to be assessed since they are no longer active beneficiaries of Pantawid Pamilyang Pilipino Program.
Moreover, there are still 22 households to be located, verified, and assessed by DSWD-FO1 NHTU staff  with the help of Pantawid Pamilya staff.  (Jaymante Pearl B. Apilado, Administrative Assistant III, NHTS-PR/Listahanan)