An island community in Isla Solomon, Barangay Pugo, Bauang, La Union was considered for community services during enumeration activities of Listahanan Field Staff assigned in Bauang, La Union.
"Our hearts were touched because when we went there for an enumeration of DSWD's Listahanan, we saw how simply they lived. Even though they don't have electricity, internet and most of their houses are made of salvaged materials, they are contented and happy," NHTU Area Supervisor Lani Mueca said.
"We decided to conduct a feeding session and giving of groceries as soon as we received our first salary as Enumerators, Area Supervisor, and Area Coordinator of Listahanan", she added.
They prepared a simple meal to be shared with everyone – arroz caldo, pancit, maja blanca and sandwiches with orange juice. They also repacked grocery items such as coffee, milk powder, chocolate powder, biscuits, canned goods, body soaps, shampoo, toothbrushes with toothpaste, and 2 kilos of rice.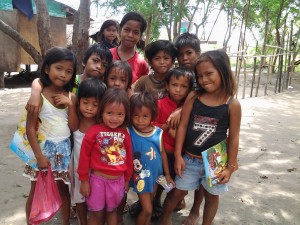 Further, NHTU Area Coordinator Janice Ballesteros said that as her contribution to their group, she provided inspirational storybooks and afterwards read them to the children.
Furthermore, Mueca said, "As we see them smiling, all our weariness starting from buying and cooking foods and repacking the grocery items fades."
On the other hand, according to Bauang Municipal Link John Louis Pagaduan, the 9 households in Isla Solomon also received assistance from the Local Government Unit, Non-Government Organizations, Faith-based groups and civil society organizations. (by: Jaymante Pearl B. Apilado, Administrative Assistant III, NHTS-PR/Listahanan)