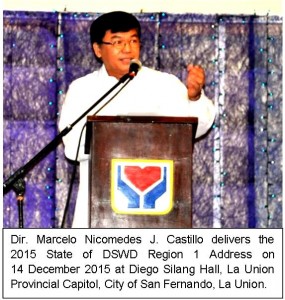 300 DSWD partners took part in Dir. Marcelo Nicomedes J. Castillo's presentation of CY 2015 accomplishments that bannered remarkable implementation of the Bottom-Up Budgeting (BUB) and advocacy of new social technologies resulting to 101 Memoranda of Agreement signed, among others.
Good practices on BUB facilitated the completion of 165 projects in 93 cities and municipalities with Php 207.5M funds. This promoted local governance and active community participation in local planning and budgeting with community structures built for community development. Since 2013, DSWD-sponsored projects have reached Php 357M disbursed funds.
The core poverty reduction programs focused on 200,325 Pantawid Pamilyang Pilipino Program beneficiaries who were assisted on employment (with 1,812 families) and microenterprise (with 15,835 families) through the Sustainable Livelihood Program and the KALAHI-CIDSS sub-projects implemented.
These entrepreneurs are now earning at least Php 1,000 to Php 6,000.00 monthly. Strategies such as Cash Building Livelihood Asset and provision of Pre-Employment Assistance Fund were also introduced to further assist the beneficiaries.
Augmentation support to disaster victims has reached Php475M to 141,964 families while Php 439.4M worth of assistance on Emergency Shelter Assistance, Cash for Work and Core Shelter Assistance Program was given to 179,960 families.
Community-based services and Protective Services Program were provided to 15,040 individuals in crisis situation in the amount of Php78M for their basic needs aside from psychosocial interventions.
On child placement, rigid assessment of prospective parents led to increased number of suitable adoptive families. For abandoned and neglected children, 45 licensed foster parents have 62 children under their temporary custody.
This year also marked the second round of household assessment of 858,426 households. This project also created temporary jobs to 3,197 individuals for assessment and validation activities. As reiterated by Director Castillo, the list of poor households is not an automatic list of beneficiaries for the Pantawid Pamilyang Pilipino Program, rather a database of poor households.
The Supplementary Feeding Program's Php 145.9M supported 93,297 Day Care Children while the Social Pension Program assisted 66,658 indigent senior citizens with Php 399.9M budget. At least 327 resident clients were served by the 5 centers and institutions through their rehabilitative and psychosocial interventions.
This year's event launched the strategic advocacy activity of theater play dubbed as "Teatro Iti Biag Ko" and was graced by development partners from the Local Social Welfare and Development Offices, Area-based Standards Network, media, and program beneficiaries. (by: Iryn D. Cubangbang, IO II)