Re-assessment and assessment of Listahanan/National Household Targeting Unit (NHTU) of the Department of Social Welfare and Development – Field Office I (DSWD-FO1) will close this December 2015.
NHTU Regional Field Coordinator Joan M. Nuesca informed the NHTU Area Supervisors (AS) assigned in all cities and municipalities of Region 1 that they have only 10 days extension until 19 December 2015 in the re-assessment and assessment of households who complained during the scheduled 15 days receiving of complaints in the Listahanan Validation and Finalization Phase.
On 03 December 2015, seven municipalities in La Union (Tubao, Caba, Burgos, Sto.Tomas, Bagulin, San Juan, and San Gabriel), 8 cities/municipalities in Ilocos Sur (Candon City, Galimuyod, San Emilio, Lidlidda, Banayoyo, Santiago, Sigay and Gregorio del Pilar) and 12 municipalities in Pangasinan (Mangatarem, Sto.Tomas, Sta.Maria, Asingan, San Nicolas, Labrador, Balungao, Anda, Bautista, Alcala, Burgos, and San Quintin) already finished catering the issues and concerns encountered during validation.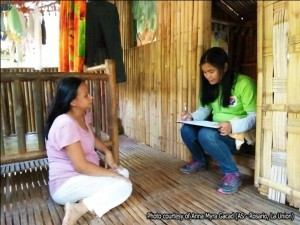 Ms.Nuesca then instructed the AS together with the Enumerators (ENs) to help or augment in the ongoing validation activity of nearby municipalities/cities.
To date, according to NHTU Statistician II Ryan Arbollente, a total of 109,226 complaints was received by NHTU AS of DSWD-FO1. In particular, 14,417 complaints were received in Ilocos Norte, 17,814 in Ilocos Sur, 15,824 in La Union and, 61,171 in Pangasinan.
Meanwhile, encoding and verifying of 864,173 Family Assessment Forms (FAFs) during the regular assessment is still on going. Regional IT Officer Aristedeo Tinol informed that out of the 864,173 FAFs, 858,426 are already encoded by NHTU Encoders.
After encoding the FAFs, verifiers still need to verify the encoded FAFs of Encoders to make sure that all encoded FAFs are complete, accurate, and true. As of 9 December 2015, 551,948 FAFs were already verified by Verifiers. (by: Jaymante Pearl B. Apilado, Administrative Assistant III, NHTS-PR/Listahanan)