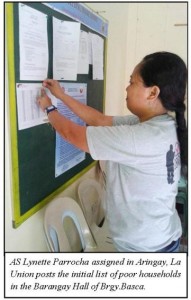 "The Listahanan initial list of poor households posted in the barangay halls by hired Area Supervisors (AS) of the National Household Targeting Unit (NHTU) of the Department of Social Welfare and Development Field Office 1 (DSWD FO1) is not yet a final list or a new list for Pantawid Pamilyang Pilipino Program beneficiaries," NHTU Focal Person Anniely J. Ferrer clarified.
During the scheduled NHTU field staff bi-weekly meeting, NHTU Regional Field Coordinator Joan M. Nuesca was informed that the bulk of complainants who have been lining up until past 5PM and waiting for their turn to appeal are Pantawid Pamilya beneficiaries whose names are no longer in the posted list.
According to Ms. Nuesca, she has been hearing feedback from AS that Pantawid Pamilya beneficiaries are complaining because they overheard that if their names are no longer in the initial list of poor households in this 2nd round of household assessment they will be automatically removed in the Pantawid Pamilyang Pilipino Program.
In an interview with DSWD FO1 Assistant Regional Director for Operations and NHTU Regional Deputy Project Manager Marlene Febes D. Peralta, she explained that the main objective of NHTU/Listahanan is to update the database of poor households for social protection programs that will be implemented not only by DSWD but also by other government offices in the future.
She added that there is no official statement coming from DSWD that Pantawid Pamilya beneficiaries will be delisted if they are no longer in the list of poor households.
Further, DSWD FO1 Regional Director Marcelo Nicomedes J. Castillo stated during the Monday Program that DSWD FO1 employees must help each other in disseminating that the list of poor (Listahanan) is not the new list of Pantawid Pamilya beneficiaries.
On the other hand, Ms. Ferrer advised the public not to worry if the plotted 15-day receiving of complaints is not enough to cater all the concerns or issues on the Listahanan Validation Phase because the Local Verification Committees in each municipality/city of Region 1 can request extension. (by: Jaymante Pearl B. Apilado, Administrative Assistant III, NHTS-PR/Listahanan)