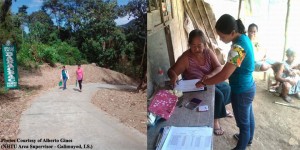 Validation and Finalization Phase assessment of  Listahanan/National Household Targeting Unit (NHTU) of the Department of Social Welfare and Development – Field Office I (DSWD-FO1) is ongoing for those 14,346 complaints regarding a specific household claiming to be included in the list of poor, but was not interviewed by enumerators (ENs) during the regular assessment conducted from April to August 2015.
Re-hired ENs will locate and assess the households after the Area Supervisors (AS) have checked that the households are not yet in the database.
As of 15 November 2015, according to the status report of NHTU Statistician II Ryan Arbollente, a total of 73,039 different complaints was already received by 140 AS assigned in the cities/municipalities of Region 1.
In particular, 6,651 complaints were received in Ilocos Norte, 8,829 in Ilocos Sur, 9,830 in La Union and 47,729 in Pangasinan.
Out of the 73,039 complaints, 45,429 complaints are about a specific household appealing to be included in the list of poor, but is identified in the posted initial list of poor households as non-poor while 11,561 complaints are about correcting the minor information of the households such as correction in spelling of names, date of birth and other basic information.
Further, there were also 631 complaints on specific households that should not be in the list of poor according to the complainants and 87 complaints that the preliminary list of poor is incomplete and not representative of the actual number of poor households in the community.
The remaining 985 are other complaints related to Listahanan that were also catered by AS. (by: Jaymante Pearl B. Apilado, Administrative Assistant III, NHTS-PR/Listahanan)