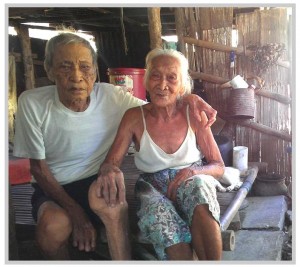 Damaso and Perpetua Ventura, 94 and 89, respectively, are among the satisfied social pensioners in Paoay, Ilocos Norte receiving Php 1,500 quarterly from the DSWD's Social Pension Program.
"Dios iti agngina gapu iti nasayaat a pakinakem da kadakami. Napalalo iti yaman mi ta agan anus kayo latta, kanayun kami a maik ikkan iti atensiyon. (Thank you for your good deeds to us. We are so grateful with your patience and attention)."
The stipend met their basic needs since it started. "Mamitlo kami met laengen a mangan. Nakuttongak idi ngem simmayat metten iti panagbiagmi iti unus iti lima a tawen. (We eat three times a day already. I was skinny then, but our lives have improved in the last 5 years)," Perpetua narrated. The Social Pension Program helped them to complete their meals in a day.
Teary-eyed, Perpetua said "Diak masupapakan daytoy a tulong yo. Makasangitak nu dadduma ta iti gobierno isu iti mangbibiag kadakami. Ta haan metten a tumultulong dagiti annak mi. (I will not be able to repay. There are times that I cry because the government help us to survive since our children could no longer assist us)." Aside from food stuff, the old couple is able to buy diaper, medicine and health supplements from the stipend received.
Despite old age and ill husband, Perpetua still manages to perform lots of household chores such as tending vegetable garden, cleaning the house and their surroundings. (by: Iryn D. Cubangbang, Information Officer II)