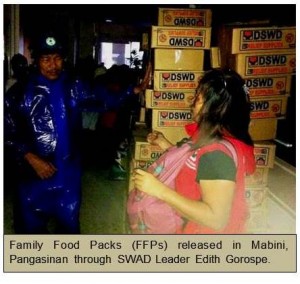 On its fourth day of operation, DSWD's repacking and transporting of family food packs (FFPs) are on-going for the provinces of La Union and Pangasinan.
According to Director Marcelo Nicomedes J. Castillo, a total amount of Php 1.2 million family food packs was already augmented to the existing resources of the affected Local Government Units.
In coordination with the Office of Civil Defense, army and navy trucks are being utilized to deliver goods to affected areas. Today, 1,000 FFPs are expected to arrive in Infanta, 1,500 FFPs in Tayug, 1,000 FFPs in Urdaneta City, and 1,000 FFPs in Alcala, all in the Province of Pangasinan.
Also in the Province of La Union, the following LGUs will receive FFPs within the day: Sto. Tomas (1,000); Bauang (500),and the City of San Fernando (600).
With the massive LGU requests, repacking is continuously done by volunteers, military personnel and Quick Action Response Teams (QuARTs) at Urayong, Bauang, La Union. Urgent procurement activities and disaster reports monitoring were likewise conducted.
Currently, DSWD FO 1 monitored disaster reports reflecting 34,329 families or 168,111 individuals affected from 441 barangays in Ilocos Sur, La Union, and Pangasinan. There are also 38 evacuation centers holding 1,143 families or 4,771 individuals wherein 80 families or 366 individuals already returned homes. (by: Iryn D. Cubangbang, Information Officer II)