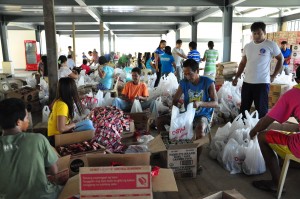 Repacking of family food packs (FFPs) is currently held at DSWD's satellite warehouse in Sta. Ba
rbara, Pangasinan to respond to the immediate needs of the affected famiies/individuals in the Province of Pangasinan.
"This heightened repacking of food packs is a converged effort with Local Government Unit (LGU) of Sta. Barbara, Philippine National Police, and Philippine Army, together with Civil Society Organizations and volunteers," Director Marcelo Nicomedes J. Castillo said.
Community volunteers and LGU-Sta. Barbara employees with DSWD staff will render 24-hour duty until all requests are responded.
Some of the volunteers are Pantawid Pamilya beneficiaries. Jocelyn Sioson, 45, said her only motivation is to extend help without any payment saying "Para makatulong kahit papaano, wala akong maibigay na pera (for me to be able to help since I cannot extend any penny)."
Currently, there are still 94 evacuation centers open with 3,593 families or 14,819 individuals. They are among the monitored 110,851 families or 527,537 individuals affected by 'Typhoon Lando' as of 2PM today. There are also 8,321 partially damaged houses and 1,047 totally damaged houses.
Accordingly, Php 2.3 million worth of family food packs were already augmented to the existing resources of the affected LGUs.
In coordination with the RDRRMC headed by the Office of Civil Defense, army and navy trucks are still being utilized to haul and deliver goods to affected areas. (by: Iryn D. Cubangbang, Information Officer II)