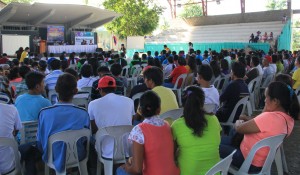 Bringing together development stakeholders on a municipal-level democratic dialogue to know and understand the development status of the Municipality of Santol, La Union, Kalahi-CIDSS Region 1 initiated the conduct of Municipal Talakayan in the said area recently.
Alongside Santol's People's Day, Kalahi-CIDSS piloted the first "Talakayan" in the Region which was actively participated by Santolians from the Municipality's 11 barangays (Corro-oy, LettacNorte, Lettac Sur, Manggaan, Paagan, Poblacion, Puguil, Ramot, Sapdaan, Sasaba, and Tubaday),  Municipal Inter-Agency Committee (MIAC), Department Heads, and other municipal officials and employees, headed by Hon. Mayor Daisy Sayangda, DSWD Regional Director Marcelo Nicomedes J. Castillo, Assistant Regional Director Marlene Febes D. Peralta, and Kalahi-CIDSS municipal and regional staff.
Participants of the "Talakayan" were walked through a gallery showcasing Santol's development status and profile, needs and interventions, and municipal development plans and agenda towards a progressively sustainable municipality. "Itong Kalahi-CIDSS Talakayan ay nagbigay ng mas malalim na kahulugan at komprehensibong impormasyon sa paghaharap-harap ng mga opisyales at empleyado ng munisipyo, barangay at komunidad (This Kalahi-CIDSS Talakayan has given a deeper meaning and comprehensive information in the face-to-face meeting between municipal officials and employees and the barangays and communities)," Mayor Sayangda said.
Santol's Development profile
Presenting Santol's development status highlighting the Municipality's zero crime rate from a population of 12,631, with a land area of 10,864.96,  Talakayan galleries showed Santol's increasing income for the past 5 years averaging Php35.808 M/year,  availability of facilities for social services (13 health facilities, 96.4% HHs have access to potable water, 88.47% HHs have access to sanitary toilet facility, 19 schools, 21 day care centers (DCCs), 52% of roads are accessible to public vehicles), number of beneficiaries under the social protection programs of the DSWD (938 HHs covered by Pantawid Pamilyang Pilipino Program, 917 HHs by Sustainable Livelihood Program, 385 by Supplementary Feeding Program, 311 Senior Citizens by Social Pension Program, and 2,805 HHs by Kalahi-CIDSS), and reduction of poverty
incidence from 39.7 in 2006 to 20.64 in 2012, which was agreed by the Santolians as manifested in the results of the perception survey randomly floated by Kalahi-CIDSS staff.
Where the Santolians are heading to
Envisioning Santol in the coming years under the present leadership of people-development-motivated Mayor Sayangda,  the Municipality aims to upgrade the services rendered in the health sector through advanced birthing centers, access to drugstores and increased awareness on sex education and family planning;  improve the social welfare sector through socio-economic upliftment of the disadvantaged and less privileged members in the community by increasing awareness of parents to responsible parenthood and encouraging 3-5 years old in DCCs and be a part of the  Early Childhood Care and Development Program; elevate the education sector by increasing school participation of children aged 6-16, providing comprehensive programs and livelihood opportunities for out-of-school youths, and increasing the proficiency level of elementary and secondary education and classroom construction. Other development goals for Santol include integrated network of all-weather roads in the municipality, provision of fire truck, expanded area of congested cemetery, construction of legislative building, construction and improvement of farm-to-market roads, increased use of organic fertilizer, increased local revenue, improved real property tax collection, and intensified capability building of Local Government Unit officials and employees.
Partnerships
With the institutionalized partnership between the LGU of Santol and partner agencies such as the DSWD, the fulfilment of improved capacities in accessing opportunities to improve the well-being of the poor and disadvantaged Santolians is promising.  On the other hand, the role of the communities as partners in the achievement of progress through Community-Driven Development (CDD) is seen as a vital tool in targeting programs that will respond to poverty alleviation and improved access to basic services. CDD is a development strategy that identifies the community as an important actor in bringing responsive development where it is needed and what is needed the most.(by: Jomara S. Chan, Kalahi-CIDSS Social Marketing Officer)