More Pantawid Pamilya beneficiaries are trained on employable skills through the Sustainable Livelihood Program and Bottom-up Budgeting Process. Some of them are now business owners.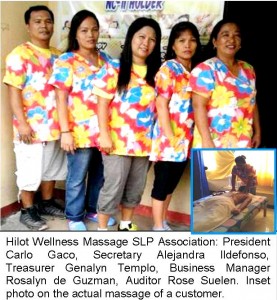 In partnership with Technical Skills Education and Development Authority (TESDA), five Pantawid Pamilya members in Asingan, Pangasinan got National Certificate II on Hilot (Wellness Massage).
This led to the opening of the Pantawid Pamilya Spa and Massage in January 2015 from the members of the Asingan Hilot Wellness Massage SLP Association.
This is among the various skills training conducted as the result of the Php 1million DSWD fund downloaded to Local Government Unit (LGU) of Asingan.
In addition to its 15% counterpart, LGU Asingan also provided a room with four beds located at the town proper, free Municipal Permit, and continuous technical assistance to the massage center.
Pantawid Pamilya beneficiaries now 'business owners'
Ms. Genalyn S. Templo, Treasurer of the Association, shared that she is now earning around Php 700.00 to Php 900.00 per day from her regular clients. Also, Ms. Templo's trained husband Jimmy does part time work as masseur with six regular clients in the municipality. The family is now earning an average of Php 5,000.00 per week which is enough to sustain their daily needs and studies of their two children, as Ms. Templo testified. She also shared that she has now a personal savings of Php20,000.00 from the project. Other members also earn an average of                Php 3,000.00 gross income per week.
According to Mr. Carlo Gaco, President of the Association, they adopted the 75-25% sharing of income, 75% for the service provider (masseur) and 25% for the Association. For one client, the share for the member is Php 225.00 and Php 75.00 to the Association. The Association has an accumulated savings of Php 13,500.00 as of 28 July 2015 excluding their petty cash amounting to Php2,000.00.
Ms. Rosalyn de Guzman, Business Manager of the Association, shared marketing strategy such as being friendly, sharing the good benefits of regular body massage, and quality services. Aside from Asingan, customers also come from nearby towns like Sta. Maria, Laoac, Manaoag, and Urdaneta City, Pangasinan. The Pantawid Pamilya Spa and Massage opens from 9:00AM to 6:00PM during Mondays and Saturdays, and even Sundays from 1:00PM to 5:00PM. (by: Ardel C. Laroya, PDO II/ CDED Officer/ SLP BUB Focal and Iryn D. Cubangbang, RIO)