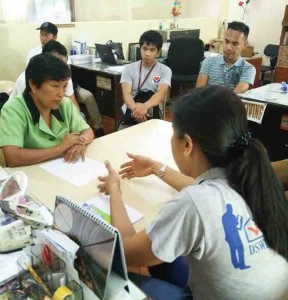 National Household Targeting Unit (NHTU)/Listahanan assessment of the Department of Social Welfare and Development – Field Office I (DSWD-FO1) is still ongoing in Laoag City, Ilocos Norte. The rest of the cities/municipalities of the four provinces already finished the assessment.
According to NHTU Regional Field Coordinator (RFC) Joan Nuesca, the 1 month original timeframe for enumeration in Laoag City was not achieved due to the number of field staff required that were not completed during the deliberation. Six Area Supervisors (ASs) and 32 Enumerators (ENs) are needed to finish the assessment of 15,438 households within the set date; however, only four ASs and 17 ENs were hired.
On the 3rd week of August, the NHTU Staff namely RFC Nuesca, Statistician II Ryan Arbollente, Administrative Assistant III for Budget Sharon Lentija, Administrative Assistant III for Information Jaymante Pearl Apilado together with Listahanan Regional Project Training and Monitoring Team (RPTMT) member Robby Boy Macaraeg and two Area Coordinators (ACs) of La Union helped in assessing 279 households in Brgy. Bacsil South, Laoag City, Ilocos Norte.
There are still six rural barangays (Pila, Balacad, Zamboanga, Lattaag, Camangaan and Lagui-sail) not completely assessed. Only the beneficiaries of Pantawid Pamilyang Pilipino Program were assessed by the ENs, so this week DSWD-FO1 NHTU staff will again help in completing the partially assessed barangays of Laoag City.
The number of households that were not yet assessed is 1,234 with 121 in Brgy.Pila, 266 in Brgy. Balacad, 221 in Brgy. Zamboanga, 129 in Brgy. Lattaag, 131 in Brgy. Camangaan, and 366 in Brgy. Lagui-sail.
Meanwhile, RCF Nuesca is grateful to DSWD FO1 Officials and employees, Local Government Units, and NHTU Support Staff composed of ACs, ASs, ENs, Encoders/Verifiers, and ASs of Encoders/Verifiers for their unending support and assistance in the 2nd round of household assessment.(by: Jaymante Pearl B. Apilado, Administrative Assistant III, NHTS-PR/Listahanan)