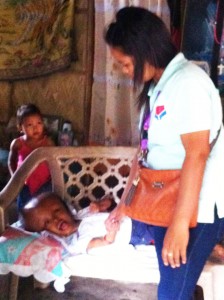 "May nagsabi sa akin na hindi daw lahat ng kawawa ay tinutulungan. Ang sa akin naman, kung kaya mong makatulong kahit sa munting paraan, bakit hindi mo tulungan?(Someone told me that not all unfortunate must be aided. For me, if you are capable of helping even in a little way, why not help?)"  These are words of wisdom to ponder on posted by Grace D. Sarmiento on her Facebook account last 25 August 2015.
Grace is an Area Supervisor (AS) of National Household Targeting Unit (NHTU) / Listahanan of the Department of Social Welfare and Development – Field Office 1 (DSWD – FO1) assigned in Sta.Maria, Pangasinan. She has always been a field worker of DSWD since 2009 starting as an Enumerator in the 1st round of household assessment.
A hands-on and experienced field worker, she had already met different kinds of people in all walks of life especially those who really need help just like Liezel Ynalvez, a nine-year-old with hydrocephalus from Brgy. Santa Rosa, Sta. Maria, Pangasinan.
AS Grace met Liezel last 7 July 2015 during the enumeration. She felt sorry since a child like Liezel must be attending school and enjoying her childhood, instead of being bedridden, skinny, and wounded on her back and stomach.
Liezel has 7 siblings. Her mother works as a laundry woman while her father is a farm laborer. With limited income, her parents cannot afford to bring her to a hospital for check-up. The education of her siblings is continuous with the assistance coming from DSWDs' Pantawid Pamilyang Pilipino Program.
Upon learning the situation of Liezel, AS Grace felt the need to help her and her family. She took pictures of Liezel and posted them on her Facebook account wishing and hoping that good Samaritans might reach her post and provide help.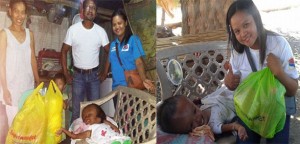 She said that with God's mercy, three individuals who saw her Facebook post donated cash. She then brought Liezel to the community center for check-up and together with her enumerators bought the needs of Liezel like diapers, milk, medicine for her wounds, and two-month supply of grocery items.
AS Grace already visited Liezel seven times and said she will keep on helping and visiting her since more blessings are coming from kind-hearted individuals.(by: Jaymante Pearl B. Apilado, Administrative Assistant III, NHTS-PR/Listahanan)