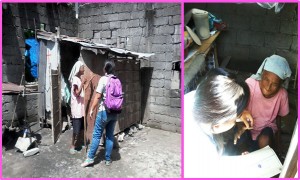 "It's never been easy to live life. This is reality. This blind old woman was living alone and has nothing but herself. It is a heart breaking scenario." This is a caption of Lorie Lei Panday's Facebook post last 7 July 2015.
Lorie Lei is an Area Supervisor of the National Household Targeting Unit (NHTU) of the Department of Social Welfare and Development – Field Office 1 (DSWD – FO1). She was an Enumerator during the Social Pension Validation last year.
In one of her random re-interviews, she met Lola Juanita Guillermo, more than 80 years old, widowed and living in a tattered small house at Brgy. Flores, San Manuel, Pangasinan. Her heart melted when Lola Juanita said that the only one who is looking after her is her niece in the neighborhood. Her only son working in Manila no longer visits her.
Seeing and hearing the situation of her respondent, she immediately posted pictures of Lola Juanita in her Facebook account reminding everyone that we must always give back the love, life, and care we received from our parents. Because of her post, she received a lot of comments from her friends who want to help Lola Juanita.

Thus, last 11 August 2015, Lorie Lei and her friends went to Lola Juanita's humble home to give groceries and clothes. Lorie Lei again posted pictures of Lola Juanita thanking all those who donated money and goods.
Meanwhile, additional blessings were received by Lola Juanita when just last month she became a Social Pension beneficiary of DSWD-FO1 receiving Php.3,000.00 allowance for the 1st and 2nd quarters during the pay-out.(by: Jaymante Pearl B. Apilado, Administrative Assistant III, NHTS-PR/Listahanan)