As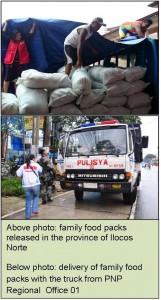 of 23 August 2015, DSWD Field Office I has released 7,968 family food packs to Local Government Units (LGUs) as augmentation assistance to victims of Typhoon Ineng in the provinces of Ilocos Norte and Ilocos Sur.
Currently, there are 16,219 families or 82,865 individuals affected by Typhoon Ineng with 2,251 individuals at 26 Evacuation Centers. The typhoon also caused 8 casualties (4 injured, 1 bitten by snake, 2 missing, 1 dead) and 316 damaged houses (38 totally and 278 partially damaged).
Director Marcelo Nicomedes J. Castillo oversees the operation of the Quick Action Response Teams (QuARTs) of the Department for the repacking and delivery of family food packs, monitoring, retrieval, and consolidation of disaster reports in coordination with the Regional, Provincial and City Disaster Risk  Reduction and Management Councils (R/P/C/MDRRMC).
The delivery of family food packs is in partnership with the Office of Civil Defense, Philippine National Police and Philippine Navy for the use of their trucks. The World Food Program also provided trucks for the delivery of 10,000 family food packs from DSWD – National Resource Operations Center.
To note, 1 family food pack contains 6 kilos of rice, 4 cans of sardines, 4 cans of corned beef, and 6 sachets of coffee. Any alterations of the content is punishable under the stipulations of Republic Act No.10121. (by: Iryn D. Cubangbang, Information Officer II)