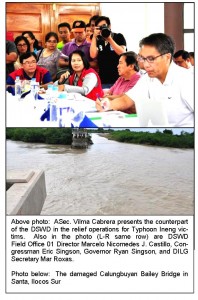 DSWD Assistant Secretary Vilma Cabrera pronounced the availability of enough family food packs for the relief operations, early recovery, and rehabilitation of families affected by Typhoon Ineng during the ocular visit conducted recently with Cabinet Secretaries Mar Roxas and Edwin Lacierda in Santa, Ilocos Sur.
Even if relief distribution should last for 3-5 days, DSWD's food support is enough for Typhoon Ineng affected families in the cities and municipalities of Ilocos Norte and Ilocos Sur, ASec. Cabrera confirmed.
During disaster, prompt preparation, quick and proactive response and alertness were emphasized by DILG Secretary Roxas in his opening message. "We cannot alter the effects of climate change, but we can improve the preparations and strategies to respond to any coming disaster," Sec. Roxas mentioned.
During the joint PDRRMC and MDRRMC Meeting, the proactive disaster operations led by Mayor Jeremy Bueno for Santa and overall provincial disaster operations led by Governor Ryan Singson that saved lives and minimized greater damages on lives and properties were recognized.
As explained by ASec. Cabrera, the early recovery and rehabilitation phase follows after the relief operation or distribution of family food packs to affected families. During this phase, destroyed facilities and community structures will be repaired or restored through Cash/Food for Work appropriate projects to be implemented by community residents upon proposals submitted by Local Chief Executives (LCEs).
Sec. Roxas asked the LCEs how these areas were well responded: human needs, lifelines, and damages. Among others, important road works and repair of the damaged bridge and part of the Santa sea wall were identified as the focus of rehabilitation projects.
After the short meeting, the team visited the collapsed Calungbuyan Bailey Bridge in Santa which also caused some delay in the delivery of family food packs to the island barangays during the height of the typhoon. (by: Iryn D. Cubangbang, Information Officer II)