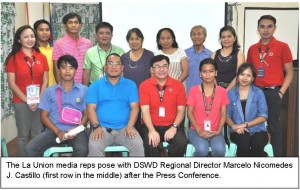 The poverty reduction programs handled by DSWD Field Office 1 continue to expand with the addition of KALAHI-CIDSS Program and the widening reach of clients and sectors being served.
Thus was highlighted by DSWD Regional Director Marcelo Nicomedes J. Castillo to local and national media correspondents during the recently held Press Conference at the Senior Citizens Center, City of San Fernando, La Union.
The previous school year featured the graduation of 18,527 Pantawid Pamilya high school beneficiaries where 1,244 were awarded either valedictorian or salutatorian.
The second round of household assessment reports that 848,598 or 91% of the target households has undergone assessment in Region 1.
"We reform as we perform. We improve our standards in providing the quality service to clientele groups," Director Castillo said.
This is through faster delivery of services and better strategies parallel to the demands of sectoral clients and beneficiaries in congruence to performance excellence by the Agency.
Director Castillo also mentioned the convergence of DSWD's institutionalized poverty reduction programs with the Sustainable Livelihood Program assisting the beneficiaries to access microenterprise seed capital and employment facilitation.
Moreover, Pantawid Pamilya beneficiaries form part during KALAHI-CIDSS Barangay Assembly where needs identification and prioritization of sub-projects are conducted. During the KALAHI-CIDSS sub-project implementation, Pantawid Pamilya beneficiaries are also the prioritized laborers.
For poor senior citizens, the quarterly stipend of Php 1,500 is provided to social pensioners. As clarified by Director Castillo, the amount of stipend was not increased as clamored by many. Instead, the government expanded the program scope by lowering the age cut off from 77 to 65 years old which increased the number of pensioners in the Region from last year's 39,763 to 64,379.
During the media forum, critic turned avid supporter of the Pantawid Pamilyang Pilipino Program Romy Acosta of Amianan Tribune mentioned the observable positive results among the beneficiaries. In response to his question on continuity of these positive changes, all will depend on the right decision to continue the journey towards development as started by this administration.
The media persons represented the following media outlets during the Press Conference: Rock City FM, Public Eye, The Amianan Tribune, Manila Bulletin, DZAG- Radyo ng Bayan, PIA-1 Regional Office, DZNL-Aksyon Radyo, DZSO- Bombo Radyo, The Weekly City Bulletin, and Hot FM-Agoo. (by: Iryn D. Cubangbang, Information Officer II)