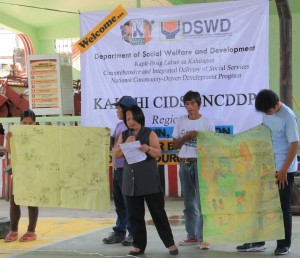 Sacrificing her time for Kalahi-CIDSS, Aida G. Sagayo, 41 years old, a Project Preparation Team (PPT) member from Barangay Wallayan, Bagulin, La Union is not disheartened even if their barangay was not prioritized in the recently conducted Municipal Inter-Barangay Forum-Participatory Resource Allocation (MIBF-PRA).
A farmer, wife, and mother of four, Aida does not count what she has done for her barangay but what more she can do.  As a PPT volunteer in Wallayan, she gave her best effort prioritizing the interest of her community first before herself. She happily shared experiences of trekking roads, walking distances and getting wet under the rain to fulfill her responsibilities as a Kalahi-CIDSS community volunteer.
"Noong dumating kasi ang Kalahi-CIDSS dito sa Wallayan nakita ko kaagad ang benepisyong makukuha namin sa Programa at ito nga po 'yong kasagutan sa pangangailangan namin ng kalsada  (When Kalahi-CIDSS came to Wallayan, I immediately saw what we can benefit from the Program, and that is the answer to our need of an access road)," Aida recalled.  What was unexpected however was when Aida herself realized the equal importance of an access road and the knowledge she has acquired from the Program being a PPT volunteer. She later understood the importance of community empowerment that provided her with the right knowledge and skills on how to process and act accordingly to the needs of her barangay. The workshops she had undergone under Kalahi-CIDSS and the hands-on experience in preparing a project proposal have made her a better and empowered Wallayan resident, believing that with the help of Kalahi-CIDSS, she can do more for her community.
With optimism, even if Wallayan's proposed sub-project was not prioritized, Aida still feels she  personally benefited from the Program. With all the experience and new knowledge she has come across and learned, her being a Kalahi-CIDSS volunteer makes her manifest the real project of the Program, an empowered citizen.
"Pagkatapos nito, ipagpapatuloy ng Brgy. Wallayan ang suporta sa Kalahi-CIDSS. Mas gagalingan namin sa second cycle, baka palarin na kaming ma-prioritize. Tuluy- tuloy lang ang kapit sa Kalahi-CIDSS (After this, Brgy. Wallayan will continue its support for Kalahi-CIDSS. We will do better in the second cycle, we might be prioritized by then. We will continue to link arms with Kalahi-CIDSS),"Aida said.
Kalahi-CIDSS is a four-cycle program currently on its first cycle in the 11 municipalities of Region 1. The second cycle of the Program processes to achieve community empowerment, good governance through the practice of transparency, and poverty reduction in the 11 identified Kalahi-CIDSS areas will roll out in September 2015. (by: Jomara S. Chan, Kalahi-CIDSS Social Marketing Officer)