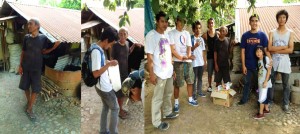 A first time Listahanan Enumerator (EN) of the Department of Social Welfare and Development – Field Office I (DSWD FO1), Neil Manangan did not just assess the household of Mr.Teodoro Dancel of Brgy. Colo, Batac City, Ilocos Norte. He also paved the way for Lolo Teodoro, living alone in his small house, to receive additional help and food assistance.
During the assessment, EN Neil learned that Lolo Teodoro can no longer work since he had stroke and has asthma. He only eats when some of his neighbors give him food or if there is any feast in their barangay or nearby barangay. Lolo Teodoro said he has relatives in the area but they don't seem to care.
Seeing and witnessing the real situation of poor households, EN Neil having only 200 pesos that time in his pocket gave Lolo Teodoro 150 pesos for his dinner and promised to return to provide more help in any possible way he can.
He asked help from his skateboard group, Thirty Five Krew (TFK), and organized a skateboard event where the money earned from the event was spent in buying groceries for Lolo Teodoro.
Additional grocery supplies were also handed by the City Social Welfare and Development Office (CSWDO) of Batac City to EN Neil as a support for his lifetime advocacy to assist Lolo Teodoro.
Further, Lolo Teodoro is now a Social Pension beneficiary of DSWD-FO1 and received his first pension amounting to Php1,500.00 last 3 July 2015.
"That's not the end of it. We will continue helping Lolo Teodoro," EN Neil said. (by: Jaymante Pearl B. Apilado, Administrative Assistant III, NHTS-PR/Listahanan)