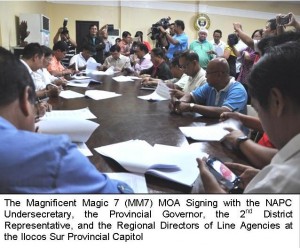 DSWD's expertise on poverty reduction and collaboration with partner regional line agencies will greatly contribute to the success of the Magnificent Magic 7 (MM7), an alliance of the Municipalities of Cervantes, Tagudin, Santa Cruz, Suyo, Sugpon, Alilem, and Quirino in the Province of Ilocos Sur working together to address poverty through increased participation of the stakeholders, accountable governance, and responsive economic platform.
On its Memorandum of Agreement (MOA) Signing held recently at the Ilocos Sur Provincial Capitol, the MM7's major agricultural and industrial priority products will be showcased in the MM7's Farming Trading Center. Accordingly, this will not only fuel economic lift from among the producers but also open eco-tourism opportunities.
The MM7 together with regional line agencies will look into the development and marketing of the following: calamansi and woven products in Tagudin; fresh tuna and "veggie-noodles" production in Sta. Cruz; ginger tea in Cervantes; sugarcane wine, root crops, and soft brooms in Alilem; yam (ube), soft broom, and rambutan in Sugpon; labtang products and wood products/furniture in Suyo; and red rice, glutinous rice, honey, and mango in Quirino.
According to DSWD Regional Director Marcelo Nicomedes J. Castillo, DSWD will continue to enhance microenterprise and entrepreneurial skills of the beneficiaries through its Sustainable Livelihood Program (SLP) and Bottom-Up Budgeting (BUB). Services to the Pantawid Pamilyang Pilipino Program will also be augmented since some eligible beneficiaries will also be prioritized in the MM7.
The MOA Signing was graced by National Anti-Poverty Commission Undersecretary Florencia Dorotan, Governor Ryan Singson, Second District Representative Eric Singson, and Regional Directors from different line agencies. ( by: Iryn D. Cubangbang, Information Officer II)