Wisdom among the elderly creates great impact in their communities; this is why the Social Pension Program ensur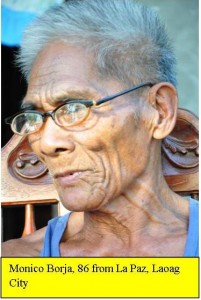 es their welfare and protection.
Social Pensioner Monico Borja, 86, from La Paz, Laoag City is among the most sought advisers in resolving marriage conflicts and petty misunderstanding among neighbors.
In resolving issues, he always promotes the good of all. Punasen iti dakes a kababalin iti panunot, nu sumro iti dakes awan nasayaat a mapasamak iti pamilya (Refuse bad thoughts, if evil things are permitted, the family fails).
According to Monico, prior to a couple's union, he goes with the groom to express pure desire to the bride's parents. Because of this, he has visited many places.
He also joins a group of youth where he relates to them his simple way of life anchored on the teachings of his parents. He teaches them to be responsible in all their actions and to refrain from actions that will bring shame to their own families.
Ultimately, he believes in the power of education that brings forth wisdom that must be inculcated in every individual.
This is the reason why Monico is loved in his community.
Stipend's advantage
When Monico's wife got sick, the stipend they have been receiving since 2011 was a big help for her medical needs.
Teary-eyed, he said "Nangnangruna a dakkel iti tulong ti Social Pension kadakami nga agserbi iti lugar mi. Agyaman kami unay (The Social Pension is a big help especially to the elderly in the community. We thank you a lot)." (by: Iryn D. Cubangbang, Information Officer II)