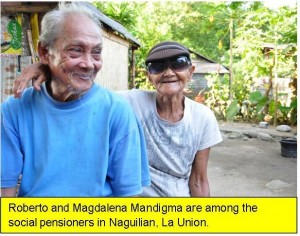 The Department of Social Welfare and Development Field Office 1 is now providing the 64,379 indigent senior citizens with Php 1,500 each as their first quarterly stipend this year with a total of Php 96.5 million.
The stipend benefits the poor senior citizens identified by the LISTAHANAN and those recommended and validated by the Local Government Units and Office of the Senior Citizens Affairs (OSCA) for those who are at least 65 years old.
According to many senior citizens, the amount may be very minimal but it greatly augments the occasional help from relatives.
Beneficial stipend
Roberto and Magdalena Mandigma of Naguilian, La Union mentioned that upon receipt of stipend, old and holed pots and pans were replaced. They also bought a new sleeping mat, a mosquito net, and paid contributions to the Senior Citizens Associations aside from food and medicine.
Also, in Paoay, Ilocos Norte, the use of stipend for Damaso and Perpetua Ventura were on their basic food needs. In an interview, Perpetua said, "Mamitlo kami met laengen a mangan. Nakuttongak idi ngem simmayat metten iti panagbiagmi iti unus iti lima a tawen (We eat three times a day already. I was skinny then, but our lives have improved in the last 5 years)." (by : Iryn D. Cubangbang, Information Officer )