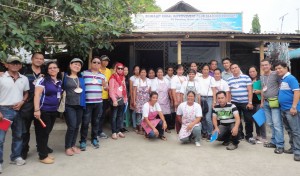 Today, a 50-peso bill might just be an ordinary bill spent in buying budget meals or load allowances good for less than a week. However, to the 50 Pantawid Pamilya beneficiaries and members of Maanos-Maseet Sustainable Livelihood Program (SLP) Association of Barangay San Isidro Sur, Binmaley, Pangasinan, the 50-peso bill is the start of their successful employment-generating enterprise.
Organized only last 18 January 2014 with only Php1,200 as their initial capital for their Bangus Process Production which came from the Php50 contributions of some members, the Maanos-Maseet SLP Association already accumulated a total capital of Php92,305 with a deposited cash in bank worth Php36,044.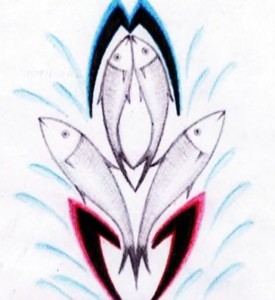 Having a pro-active engagement and commitment to their livelihood activity using the strategy: "Trabaho't Negosyo Ko, Galing sa IPON MO", the Maanos-Maseet SLP Association is now one of the most successful organizations in Region I thanks to the convergence of Bureau of Fisheries and Aquatic Resources, Department of Trade and Industry, Technical Education and Skills Development Authority, Local Government Unit of Binmaley, Pangasinan State University – Binmaley Campus and the Department of Social Welfare and Development – Field Office I through the SLP.
Each member of Maanos-Maseet SLP Association plays an important role in the production, bookkeeping and marketing strategy of their microenterprise. Thrice a week from 7 AM-10 AM, some of the members are deboning milkfish (Bangus) in their own production site made from bamboo while the others are getting orders and selling their products such as boneless bangus, smoked bangus, relyenong bangus, shanghai bangus, embutidong bangus, bangus sardines, bangus siomai and tosinong bangus in their exhibit area inside the newly repaired old barangay hall.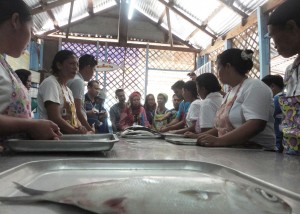 Members rendering 4 hours of work in the deboning site are paid Php50 per day. In a week, more than 25 kilos of fresh bangus from the fishponds of the Municipality of Binmaley, Pangasinan tagged as the Fishbowl Capital of the North are being consumed. Ten percent of their total income is deposited to the Association's bank account for additional capital and savings mobilization.
After over a year, the life of each member of Maanos-Maseet SLP Association has changed. They are now happy and fulfilled housewives who help their husbands in providing the basic needs of their respective families. Gilda F. Belda, President of Maanos-Maseet SLP Association, is now proud to say that she is already self-sufficient. From their individual earnings in the association and as an on call trainer for the processing of bangus with a fee of Php800 per day, she can now stand on her own and provide all the needs of her family.
Indeed, the Maanos-Maseet SLP Association attests to the saying, "Coming together is a beginning; keeping together is progress and working together is success." (by: Jaymante Pearl B. Apilado, Administrative Assistant III, NHTS-PR/Listahanan)