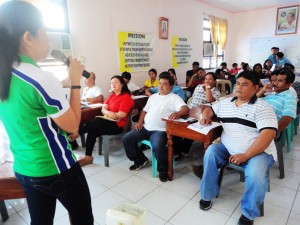 Recognizing the vital role of every Punong Barangay in all the activities being undertaken in their own area of jurisdiction, particularly in the 2nd Round of Household Assessment of the National Household Targeting System for Poverty Reduction/Listahanan of the Department of Social Welfare and Development – Field Office I, Municipal Social Welfare and Development Officer Elma B. Mostoles of Sudipen, La Union invited Ms. Joan M. Nuesca (NHTS-PR Focal Person) last 27 April 2015 to conduct a brief orientation about Listahanan to all the Punong Barangays of Sudipen before the deployment of the newly hired Area Supervisors and Enumerators of NHTS-PR in the Municipality of Sudipen.
Ms. Nuesca informed the Barangay Captains about their roles in this assessment of households, specifically in signing the Refusal Form of Area Supervisors should there be a respondent who refuses to be interviewed three (3) times.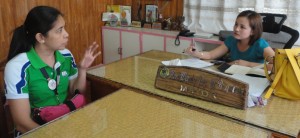 Regarding any complaints after the posting of the initial results of the household assessment in the Barangay Halls, Ms. Nuesca also informed them that a Local Verification Committee (LVC) would act on those complaints, such as incorrect spelling of names of the household members, incomplete list of household members, household not interviewed among others.
The City/Municipal Social Welfare and Development Officer and the City/Municipal Planning and Development Officer are the two mandatory members of the LVC, and the three other members may be picked among the civil society organization, non-government organizations, faith-based groups and people's organizations in the Municipality.
Further, the composition of the LVC shall be formalized through a Resolution by the City/Municipal Council, and the Area Supervisors of NHTS-PR will act as the Secretariat.
"The Listahanan is a crucial project" said Ms. Nuesca, so she asked the support of the Punong Barangays of Sudipen since this database of poor households would be the basis of government agencies, local government units and even private sectors for any social protection programs that they would implement, and also to prevent the limited funds of our government from being wasted and to ensure that the same will be directed to the real poor. (by: Jaymante Pearl B. Apilado, Administrative Assistant III, NHTS-PR/Listahanan)