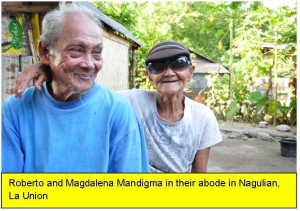 They are not just an ordinary couple collecting recyclable materials for a living, they are symbols of partnership blessed from above.
A real inspiration to their family and community, Roberto and Madalena Mandigma of Naguilian, La Union brave the challenges of being poor together.The couple lives simply without electricity in a one-room house made of bamboo splits.
Magdalena's blindness does not stop her to go with Roberto in their routinary activities. Everyday, they wash clothes and take a bath in a nearby river before collecting recyclable materials downtown.
In barely three hours of roaming the town collecting and selling recyclable materials, they got money to buy food. Most of the time, they have some fish and cabbage as their viands.
Stipend used on basic equipment at home
Thankful couple mentioned that upon receipt of stipend, old and holed pots and pans were replaced. They also bought a new sleeping mat, a mosquito net, and paid contributions to the Senior Citizens Associations.
They also use this to buy medicine and vitamins since Magdalena often feels dizzy and experiences stomach pains. (by: Iryn D. Cubangbang, Information Officer II)