Department of Social Welfare and Development – Field Office I (DSWD FO I) continues its full blast activities on Listahanan. As of 27 May 2015, 329,412 households were already assessed by the enumerators of Listahanan of the DSWD-FO I. Particularly, 46,349 households were assessed in the Province of Ilocos Norte, 56,914 households in the Province of Ilocos Sur, 73,172 households in the Province of La Union, and 152,437 households in the Province of Pangasinan.
The 69 Area Coordinators weekly submit the Family Assessment Form (FAF) of their respective Enumerators together with the Yellow Form or Re-interview Form of their Area Supervisors at DSWD – FO I to be encoded and verified by the Encoders and Verifiers.
Out of 1,409 applicants for the positions of Encoder and Verifier, 404 were shortlisted for contract signing and training.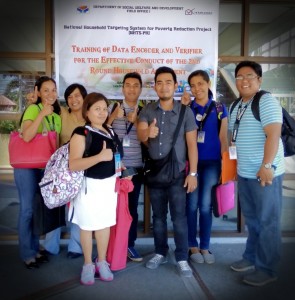 At present, there are already 333 encoders and verifiers who underwent the 3-day training held at Oasis Country Resort, San Fernando City, La Union and Kultura Splash Wave Resort, Pugo, La Union.
Forty-eight Encoders and Verifiers were trained last 27-29 April 2015, followed by 50 last 29 April 2015 until 1 May 2015. Further, the 3rd (47) and 4th (47) batches of Encoders and Verifiers were simultaneously trained last 4-6 May 2015. The 5th (47) and 6th (52) batches were also trained simultaneously last 13-15 May 2015 and so with the 7th (43) and 8th (46) batches last 20-22 May 2015. (by: Jaymante Pearl B. Apilado, Administrative Assistant III, NHTS-PR/Listahanan)