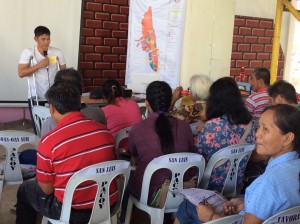 "Hindi hadlang ang aking kapansanan  sa commitment ko sa Kalahi-CIDSS (My disability is not a hindrance to my commitment to Kalahi-CIDSS)", says Benigno L. Javier, Jr., 51, married and a Kalahi-CIDSS Barangay Representation Team (BRT) volunteer.
Differently abled since age 3 due to polio complications, Mang Benigno never considered himself any less among his peers and family.  Working as an electronic technician as his source of income for a family of two in Pugo, La Union, he had no reservations being a community volunteer for Kalahi-CIDSS. He also heads the Federation of Persons with Disability in Pugo which aims to address the concerns, protect the rights and develop persons with disability in Pugo.
Drawn to Kalahi-CIDSS, Mang Benigno was overwhelmed by the extent of participation in Kalahi-CIDSS activities and assemblies by his kabarangays.  With the progress of Kalahi-CIDSS program implementation in Brgy. Poblacion, Pugo, La Union, unity and cooperation among residents have become observable values.
Empowerment, which necessitates participation and knowledge, is important as it is the main factor to achieve the goals of the Kalahi-CIDSS in their barangay, according to Mang Benigno.  His commitment to the program is anchored on his faith that Kalahi-CIDSS will respond to their clamor for receptive development. He is currently working with his community in preparation for the prioritization of sub-projects under the Kalahi-CIDSS program. "Masarap sa pakiramdam na pinagkatiwalaan ako at ng aking komunidad na manguna sa pagsagawa ng preparasyon para sa isang sub-project na makatutulong sa aming komunidad (It feels great that I and my community are entrusted to lead the preparation for a sub-project that can help our community)."
With Kalahi-CIDSS in Pugo, Mang Benigno claimed improved governance in their area. Aside from the prevailing participation and inclusion of residents as indicators of empowerment, communication in the consultation for development has also improved and has been simplified through dialogues during barangay and municipal assemblies.
Pleased by the positive indications of Kalahi-CIDSS in Pugo,  Mang Benigno commits to do the best he could to help the Municipality of Pugo towards its attainment of development by being a volunteer, an asset to his hometown, and  an agent of change. (by: Jomara S.Chan, Kalahi-CIDSS Social Marketing Officer)