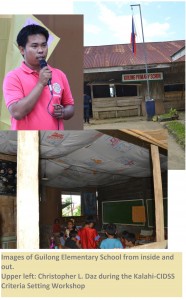 An advocate of development through quality primary education for the children of Guilong, Alilem, Ilocos Sur, 28-year old Christopher L. Daz, a single primary school teacher, finds the realization of his advocacy by being a Kalahi-CIDSS community volunteer.
Working in the academe for five years, he has seen the need to improve the delivery of quality primary education in his barangay.  With old classrooms that are no longer conducive and safe for the school-goers of Guilong Primary School, the very venue for molding better leaders of tomorrow poses a threat in the process of  knowledge acquisition of the said school children. Short of classrooms, the school holds three grade levels (Gr 1-3) with two, one being Christopher,  primary school teachers.  Even with an average of 6 children per grade level, Christopher sees progress with Kalahi-CIDSS intervention.
When Kalahi-CIDSS came to Alilem, Christopher's first impression was that it could be another aid from the government for the poor     knowing that it is coursed through DSWD. "Natutuwa  ako at ako'y isang Kalahi-CIDSS volunteer. Naisip ko, ito na ang tamang panahon upang isulong ko ang aking adbokasiya sa dekalidad na edukasyon para sa primary graders ng Brgy.Guilong (I am delighted that I am a Kalahi-CIDSS volunteer. I thought, this is the right time to pursue my advocacy on quality education for the primary graders of Brgy. Guilong)", he said.
Performing volunteer work for Kalahi-CIDSS has inspired Christopher to pursue his advocacy, knowing that his whole community supports him. The fulfillment of unqualified service that he renders to his community becomes his motivation to carry on.  He said  giving up would be the last thing he would do  as he takes the privilege of being a Kalahi-CIDSS volunteer and a primary teacher at the same time as  his chance to build a legacy in his community.
Being an educator, Christopher believes that literacy is the best tool to community empowerment and poverty  reduction. He and his kabarangays work hard for and look forward to an improved life sustained through literacy. (by: Jomara S. Chan, Kalahi-CIDSS Social Marketing Officer)