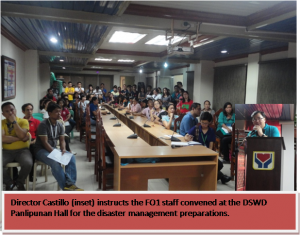 With the onset of typhoon "Maysak" (international name) to be named "Chedeng" when it enters the Philippine Area of Responsibility in the next 24 hours, DSWD Field Office 1 (DSWD FO 1) prepares for possible immediate disaster response as the office closely monitors the path and situation of the typhoon.
DSWD FO1 Regional Director Marcelo Nicomedes J. Castillo called an urgent meeting with the DSWD FO1 staff for the tasking and schedule of the Quick Action Response Teams (QUARTs) to ensure preparedness and immediate action on any situation which may require assistance from the Department.
As part of the preparations and planning, DSWD FO 1 currently maintains a stockpile of 30,000 family food packs (ffp). Out of which, 28,000 are prepositioned at DSWD satellite warehouses in the following areas: Bani (4,000 ffp), Rosales (4,000 ffp), Sta. Barabara (2,000 ffp), Manaoag (2,000 ffp), and POO Dagupan City (3,000 ffp) in Pangasinan; POO Vigan City (3,000 ffp), Santa (2,000 ffp), and Cervantes (2,000 ffp) in Ilocos Sur; and POO Laoag City (3,000 ffp) and Burgos (3,000 ffp) in Ilocos Norte.
In addition, DSWD FO1 has a standby fund of Php991,954.17 as part of the disaster risk reduction management operations in Region 1.
DSWD Central Office has mandated the preparation of logistics for the movement of goods once the path of the typhoon is determined.  "I trust that everyone will be alert and ready to respond," DSWD Secretary Dinky Soliman said.
Presently, DSWD FO 1 Disaster Management Unit is convening response clusters and coordinating with the Office of the Civil Defense (OCD) and other agencies and LGUs for a more organized disaster response.
(By: Jomara S. Chan, Kalahi-CIDSS Social Marketing Officer)