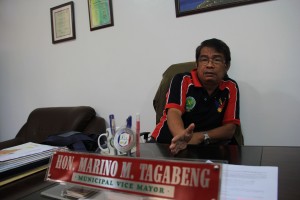 A fifth class municipality in the Province of La Union, Pugo has been identified as one of the 11 Kalahi-CIDSS municipalities in Region 1.
Leading the legislative branch of the local government unit of Pugo and working alongside Pugo's local chief executive, Vice-Mayor Marino M.
Tagabeng is pleased to be part of the empowerment drive brought about by DSWD's Kalahi-CIDSS in the Region.
Identifying poverty as one of the major dilemmas of the municipality, Vice-Mayor Tagabeng recognizes the assistance of the Program and its partnership with the LGU of Pugo in improving the lives of the people and in minimizing poverty incidence in their municipality.
Pugo's support encompasses commitment to DSWD and Kalahi-CIDSS. The success of the Program in the municipality will reflect the essence of being a resident of Pugo, as told by Tagabeng.
Kalahi-CIDSS advocates public service a notch higher. Community empowerment, good governance, and poverty alleviation are the goals foreseen by the Program expected to be acquired in the process.
Part of the improvement of governance observed in Pugo is grounded on empowerment. "Ang nagustuhan naming mga opisyal ng local government unit ng Pugo pagdating sa Kalahi-CIDSS ay natuto nang makinig ang lokal na parte ng gobyerno sa boses ng mga nasa ibaba. Sa ganitong paraan nakukuha rin namin ang boluntaryong tiwala ng mga tao sa aming mga namamahala sa lokal na pamahalaan." (What the officials of the local government unit of Pugo like about Kalahi-CIDSS is that the local government has learned to listen to the voice of those who are in the grassroots. This way, we in the local government unit are also able to acquire the voluntary trust of our constituents.)
Utilization of resources in Pugo has also been practiced since the advent of Kalahi-CIDSS. Residents and LGU officials have developed strengthened partnership in advocating development in their municipality not only in voicing out their anxieties but also in sharing their privately-owned resources such as land areas. The oneness of the residents and the barangay and the municipal officials has been strengthened due to built trust and unity among residents, officials, and Kalahi-CIDSS in Pugo.
The roll out of Kalahi-CIDSS in Pugo was not as optimistic as it is observed now. Doubt on and opposition to the processes and implementation of the Program were raised but had slowly subsided as the people started to appreciate the dynamics of empowerment in every barangay and municipal assembly when their voices are heard and valued in every issue and concern raised.
Community-Driven Development (CDD) is a strategy that the people and officials of Pugo appreciate. "Nakikita kong sa pamamagitan ng CDD strategy, hindi na lang aasa ang constituents natin dito sa Pugo sa kung ano na lang ang tulong na ibabagsak sa kanila. Ito ang nakikita kong susi upang sabay-sabay naming i-angat  ang aming pamumuhay at ang buong munisipyo. Pagdating sa Kalahi-CIDSS, strictly no politics, purely community-led lang talaga." (I have seen that through the CDD strategy, our constituents here in Pugo will no longer rely on whatever help is cascaded to them. This is what I have seen as the key to collectively improve our way of life and the whole municipality. When it comes to Kalahai-CIDSS, it is strictly no politics, purely community-led.) (by: Jomara S. Chan, Kalahi-CIDSS Social Marketing Officer)