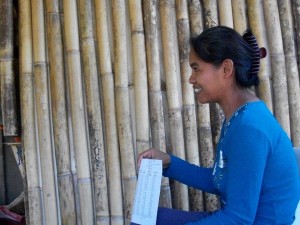 Leaving her roots from the Ifugao Province, Fe E. Alijo, 42, a Kalahi-CIDSS community volunteer from Brgy. Lacong, San Gabriel, La Union, commits to serve her co-barangay partner beneficiaries of the Kalahi-CIDSS Program to help promote progress – a potential that she has seen in Lacong the first time she stepped in the area.
Now one of the women of Lacong after marrying a native of the barangay, Fe has seen the impending development in this area, specifically on women and their engagement to barangay activities. She believes that Brgy. Lacong is already on its way to progress, but she sees a better way to get there even faster – involving women in the mechanisms of reaching development.
Fe, who is also the resident Pastor of a religious ministry in the community, sources out women mobilization using her position in the church to encourage women to be active and become a part in community activities where their capabilities can be utilized, making them productive community members. "Hindi ko masyadong nakakitaan ng interes ang mga taga amin na makisali sa mga barangay activities, lalo na ang mga kababaihan. Hanggang sa dumating ang Kalahi-CIDSS, nakita ko na hindi na sila mahirap tipunin para mag-participate at i-mobilize para magawa ang mga dapat gawin sa ikauunlad ng barangay namin." (I have not seen much interest from the people in our area in participating in barangay activities, especially the women. Until Kalahi-CIDSS came and it was not so hard anymore to call and organize the people to participate and mobilize to do what should be done for the development of our barangay.)
 For Fe, it was the frequent visits of Kalahi-CIDSS staff in their barangay and the socially relevant information they shared on the importance of people participation to voice out their rights and needs that have persuaded them to actively participate not only in Kalahi-CIDSS activities but in all barangay activities. Slowly but surely, Fe sees the hopes of barangay transformation which she wants to be a part of. "Napapaiyak ako pag nakikita ko na tinatanggalan ng karapatan ang mga kababaihan. Nang dumating ang Kalahi-CIDSS, higit pa sa karapatan ang binigay nila. Binigyan nila ang mga kababaihan ng Barangay Lacong ng kapangyarihan." (It makes me cry whenever I see women deprived of their rights. When Kalahi-CIDSS came, it was more than right that it gave. It gave power to the women of Brgy. Lacong.)
Wearing several hats as an active community volunteer, Fe organized another venue where women empowerment can be introduced and practiced – the MAKAPALA Women's Organization, composed of all the women from sitios Matagektek, Kawayan, and Palali of Brgy. Lacong.  The women of Brgy. Lacong are not the typical women in the highlands.  They don't just stay at home and become homemakers, they also work in the fields equally with the men. But after harvest season, Fe sees the women struggling to earn additional income to help their husbands in raising their family, so she introduced the cooperative system of a small enterprise.
MAKAPALA Women's Organization opened their own sari-sari store where the income is equally divided by the MAKAPALA members every time due. Fe as the head of the organization continues to seek other potentials for the women of Lacong to discover and enhance their skills for a wider venue of prospects for additional earnings.
As a Kalahi-CIDSS volunteer, she finds the mechanisms of the Program as an effective way to bring out more of what the women of Brgy. Lacong are capable of.  She expressed her gratefulness to the Program as it answers her dream of giving importance to the women in the community no matter how big or small the task is. For Fe, involving women in works identified to be traditionally intended for men before is more than community empowerment, she wants to peg it as an educated community. (by: Jomara S. Chan, Kalahi-CIDSS Social Marketing Officer)