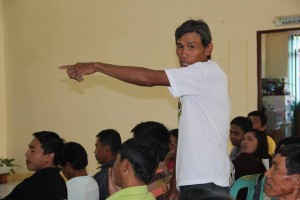 Sustaining his duty to his kabarangays after serving as barangay official and a Pantawid Pamilya volunteer, Feliciano Soliven, 52, now commits himself as a Kalahi-CIDSS community volunteer.
Farming, being his main source of income for his wife and two children, Mang Feliciano secures his hopes to the services and assistance that the DSWD grants to his area. That is why when his kabarangays elected him as one of the volunteers, he did not hesitate to take the responsibility because he knows that something good will come out not only for him, but more importantly to his family and kabarangays.
When Kalahi-CIDSS was introduced to Sigay, Mang Feliciano was elated to hear that DSWD has another Program to be implemented in their area. Due to insufficient assistance and countless poverty challenges that they face every day, the residents of Sigay saw the advent of Kalahi-CIDSS as an answer to their prayers and a realization to their hopes.
Mang Feliciano, being one of them, works hard and makes time to attend to every assembly called by the Program. He considers his time and effort to be his most essential contribution to the Program and the people of Sigay.
But there is more to volunteerism that Mang Feliciano sees in the implementation of Kalahi-CIDSS. "Ang maganda kasi sa amin dito sa Sigay ay nananalaytay na sa aming katauhan mula pa sa aming mga kanunu-nunu-an ang gawaing bayanihan." (The good thing about us in Sigay is that "bayanihan" already runs in our blood.)
Empowerment is a new method of "barangayan" seen in Sigay.  The people are already used to extending help to make their "kabarangay's" life easier and better, yet they lack the courage to speak out for themselves, their needs, and their rights. Development is a vision they see with "bayanihan" but when Kalahi-CIDSS was introduced to their area, they realized the important role of community empowerment and the power given to them in materializing their vision of development.
Mang Feliciano expressed his enthusiasm to the dynamics of the Kalahi-CIDSS activities. Seeing the slow but sure transformation of his fellow Sigaynons, he feels positive of the development that they are about to experience. "Malaking potensyal sa pag-unlad at pagbabago ang nakikita ko pagdating ng Kalahi sa amin. Na-realize ko rin na hindi pala sapat na nagtutulungan lang kami. Mahalaga rin na matuto kaming magsalita at marinig ang aming boses sa mga proyektong pangkaunlaran na kailangan namin." (With the start of Kalahi-CIDSS in our area, I see a big potential for change and development.  I also realized that it is not enough that we just help each other. It is also important that we learn to speak and be listened to in terms of voicing out development projects that we need.)
As Mang Feliciano shared, he felt honored to be chosen by his "kabarangays" to be part of the poll of volunteers in Sigay. Enthused by the need to have their barangay's proposed sub-project to be prioritized, Mang Feliciano doesn't mind the uncompensated service he renders for the Program as a volunteer.  He thinks more of fulfilling the needs of his barangay.  More than an obligation, he takes his role in the Program as a rewarding sacrifice. (by: Jomara S. Chan, Kalahi-CIDSS Social Marketing Officer)