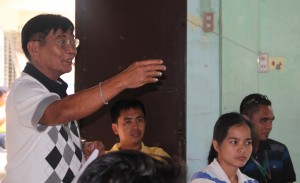 Sugpon, a fifth class municipality in the province of Ilocos Sur and a Kalahi-CIDSS area, embraces a new system in advancing the development in their municipality and sustaining the practice of good governance in their locale.
With Kalahi-CIDSS introduced in the Municipality of Sugpon, Mayor Fernando C. Quiton, Sr. welcomes the Program's unique way of introducing development where mobilization of the town's people is its most valued good practice. Seeing the communities of Sugpon actively participate in different Kalahi-CIDSS barangay and municipal activities, Mayor Quiton, Sr. is pleased to witness this change in his municipality.  "I was surprised in a good way to see the people of Sugpon so empowered and manifest capabilities in decision making for the development of our town," Mayor Quiton, Sr. said.
"Community empowerment in the barangays of Sugpon is still new to the people but with the facilitation of the Kalahi-CIDSS staff in the area and support of the Sugpon Local Government Unit (LGU) and stakeholders I see a promising future of this Program in our municipality," Mayor Quiton added.
Furthermore, Sugpon's local chief executive expressed that the start of Kalahi-CIDSS in their municipality does not only manifest community transformation, it has also strengthened the partnership between the LGU of Sugpon and the Department of Social Welfare and Development (DSWD) in delivering paralleled social development services to improve the quality of life of the people in Sugpon.   Aside from Kalahi-CIDSS, Sugpon, Ilocos Sur is also a Pantawid Pamilya Pilipino Program and Sustainable Livelihood Program (SLP) area. (by: Jomara S. Chan, Kalahi-CIDSS Social Marketing Officer)