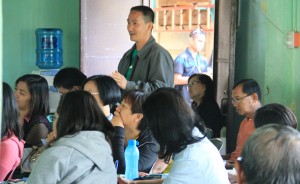 Kalahi-CIDSS Area Coordinating Team (ACT) in Sugpon, Ilocos Sur convened for the first time various Kalahi-CIDSS stakeholders for the first Municipal Inter-Barangay Forum (MIBF).
Members of the Barangay Representation Teams (BRT) composed of barangay captains and community  volunteers, Municipal Inter-Agency committee (MIAC), Local Poverty Reduction Action Team (LPRAT), Sugpon Municipal Coordinating Team (MCT), Sugpon Local Government Unit (LGU) composed of the Mayor, Vice-Mayor,  and Sangguniang Bayan Members, and representatives from the National Commission on Indigenous Peoples (NCIP) gathered to set the decisive factors in choosing the Kalahi-CIDSS  sub-project/s to be prioritized and implemented in Sugpon.
Among the sub-projects proposed in the six barangays of Sugpon are foot bridges, pathways, water system, flood control structures, and concrete barriers. The criteria set by the BRT in the prioritization of these proposed  sub-projects are as follows: 60% on the qualitative criteria which include 1)participation of barangay residents to Barangay Assemblies, 2)percentage of women attendees to BAs, 3)number of resident beneficiaries, 4)number of barangay beneficiaries, 5)percentage of free labor, and 6)non-BUB areas;   and 40% for the quantitative criteria which include  1) the usuefulness of the sub-project to the poorest of the poor, 2) gender sensitivity, 3) responsiveness to the cause of the problem, 4) length of the sub-project serviceability, and 5) sustainability of the sub-project.
With the set of criteria for the selection of the most appropriate and responsive interventions for the Kalahi-CIDSS sub-project prioritization processes, participation and transparency are hammered values into the system on how Kalahi-CIDSS sub-projects will be managed in the community level by the community volunteers. (by: Jomara S. Chan, Kalahi-CIDSS Social Marketing Officer)