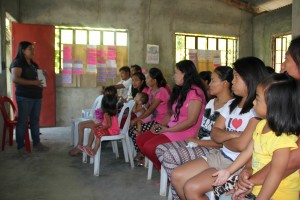 Kapit-Bisig Laban sa Kahirapan Comprehensive and Integrated Delivery of Social Services (Kalahi-CIDSS)  of the Department of Social Welfare and Development (DSWD) in Brgy. Mapisi, Nagbukel, Ilocos Sur conducted its second Barangay Assembly (BA) recently.
In the assembly facilitated by Kalahi-CIDSSP Nagbukel Area Coordinating Team (ACT), attended by the residents of Mapisi and presided by its community volunteers, the following were discussed: the results of the Participatory Situational Analysis (PSA) where the barangay volunteers identified poverty challenges in their area and possible solutions;  the Seasonal Chart which reflects the barangay residents'  status of income, expenses, and activities for the whole year; the Venn Diagram which identifies the different organizations, including the different government agencies that are actively implementing development projects in their barangay; the problem tree and its corresponding solution tree; and two of the outputs of the barangay activity which are the Barangay Action Plan (BAP) and the Motion to submit a resolution integrating the BAP in the Barangay Development Plan.
As agreed upon by the empowered residents of Brgy. Mapisi, the following problems were identified from which they will choose one to present for prioritization in the municipal level: (1) limited water supply, (2) non-existence of a Day Care Center, (3) fractional provision of elementary education up to grade 2 level only , (4) malnutrition, and (5) low income and unemployment.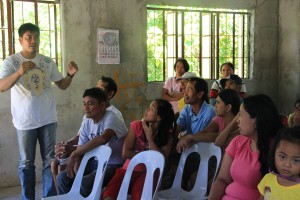 Barangay Captain Henry C. Garcia of Brgy. Mapisi said  "Umaasa kaming mga taga Brgy. Mapisi na maprioritize ang aming sub-project.  Malaking tulong iyon para sa ikauunlad ng buhay namin.  Kaya palagi kong hinihikayat ang mga tao rito na palaging sumali sa mga barangay activities ng Kalahi-CIDSS. Pero kung nagkataong hindi ang barangay sub-project namin ang  ma-prioritize ay tatanggapin namin. Ang importante nailaban namin ang proyektong kailangan namin.  Higit sa lahat, masaya ako at nakikita ko na unti-unti nang na-e-empower ang mga residente ng Brgy. Mapisi." (We from Brgy.Mapisi hope that our sub-project be prioritized. It would be a big help to better our lives. That is why I always encourage my constituents to always participate in the activities of Kalahi-CIDSS. But if our barangay sub-project will not be prioritized, we will accept it. What is important is that we fought for the project we need.  Most of all, I am happy to see that the residents of Brgy. Mapisi are slowly being empowered.)
Furthermore, Brgy. Capt. Garcia expressed his gratitude not only to Kalahi-CIDSS but to DSWD's other programs here in Mapisi as well, such as the Pantawid Pamilyang Pilipino Program and the Social Pension (Soc Pen). "Malaking tulong ang mga programa ng DSWD dito sa amin para sa ikauunlad ng Brgy.Mapisi (The programs of DSWD are a big help for the development of Brgy. Mapisi)." (by: JOMARA S. CHAN, Kalahi-CIDSS Social Marketing Officer)