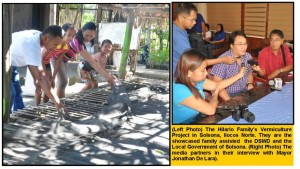 More families are now gaining good economic status because of DSWD Field Office 1 (FO1) and the Local Government Unit's converged efforts.
In Solsona, Ilocos Norte, vermiculture was identified as a priority income-generating project of the Pantawid Pamilya beneficiaries from their Cash for Work Project's wage for a 10-day work (with Php 1,900.00 each) in 2011, which was provided by DSWD FO1.
Media representatives witnessed the results of these projects through their learning visit held on October 28, 2014 at the vermiculture farm of Mr. Remigio Hilario. The representatives from Ilocos Times/ Philippine Daily Inquirer, DZJC- Aksyon Radyo, DZEA- Catholic Media Network, Philippine Information Agency, and UNTV witnessed how the LGU of Solsona focuses its poverty reduction strategies to the Pantawid Pamilya beneficiaries.
Media representatives' appreciation on this convergence efforts prompted Mayor Jonathan De Lara's pronouncement to minimize indigency in Solsona, Ilocos Norte. "We taught of a project that will help them get out of being an indigent. If we give them money, after they spend it, they are still indigents. Instead, we gave them livelihood assistance. With the vermiculture, we are promoting a safe and potential industry, and there have been many success stories about it," Mayor De Lara narrated.
Mayor De Lara believes that Pantawid Pamilya beneficiaries are now our partners in development. Even without the help from the national government, they can now stand on their own with the vermiculture project.
Ilocos Times and Philippine Daily Inquirer correspondent Leilanie Adriano shared that the Media Learning Visit provided hands-on experience as to the real story of families and local communities trying to help themselves out of poverty with the help of the government . (by: Iryn D. Cubangbang, Information Officer II)