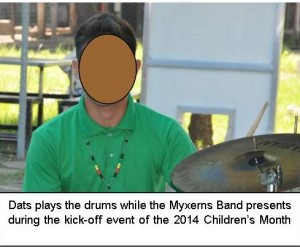 Dats (not real name) considers education as a weapon to combat adversities in life especially after his rehabilitation at the Regional Rehabilitation Center for Youth (RRCY) at Urayong, Bauang, La Union.
Prior to the realization, Dats values his barkada (frat) so much that he likened them to gold. "Sobrang mahalaga parang ginto (very important like gold)," Dats said.
This dramatically changed when his group intentionally left him and did not care anymore after doing a heinous activity.
This alleged activity led Dats and his brother to the Center where his dreams began anew.
Better perspectives learned
It has been three years since Dats started rehabilitative activities at RRCY. As observed by social workers and houseparents, his beliefs and practices as a youth have changed, regaining strength as a renewed individual.
At RRCY, Dats finished his secondary schooling with the Alternative Learning System of the Department of Education (DepEd) where he got a high score of 106 points on his second attempt.
With perseverance practiced in the Center, he believes that education will make him a better individual. Five years from now, Dats sees himself as a model to the youth advocating good deeds. He wants to remind them to select their friends and to study hard because time is gold that should not be wasted. He envisions himself as part of the Philippine Army and will work this out even if it entails him to work while studying.
Joining the Myxerns Band
Worthwhile activities are done in the Center as part of their rehabilitative activities. Dats is among the musicians and singer of their group named Myxerns Band. This band joins and sometimes wins various musical band competitions in the nearby barangays and town fiestas.
With their exciting escapades in performing at venues like the SM Mall of Asia, Dats and the Myxerns Band inspire their fellow residents at RRCY.
Dats is waiting for his release on recognizance. Nonetheless, he is still enjoying life in the Center, carefully abiding by the rules and sharing his good thoughts among fellow residents. (by: Iryn D. Cubangbang, Information Officer II)