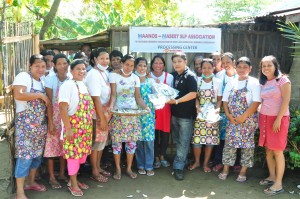 Maximizing the abundance of bangus (milkfish) in Binmaley, Pangasinan and the small savings from cash grants propelled 50 Pantawid Pamilya beneficiaries to venture into bangus processing which has now become the pride of their organization Maseet- Maanus SLP Association.
The Bangus Processing Project that began in March 2014 with only Php 1,400.00 start-up capital now has a revolving fund of more than Php 70,000.00.
The Association produces boneless bangus, smoked bangus, relyenong bangus, shanghai bangus, embutidong bangus, and bangus sardines from freshly harvested bangus immediately processed to preserve the natural taste.
This is the response of the beneficiaries to the sustainability of positive changes happening in their empowered lives. Accordingly, this project will help families meet their financial needs even after the Pantawid Pamilya ends. "Kailangan magkaroon ng savings para may mahuhugot pag may mga emergency na pangangailangan (There is a need to save for emergency purposes)," Ginalyn Perez said.
Aside from increasing the production, the revolving fund is also used to finance urgent financial needs of fellow Pantawid Pamilya beneficiaries for them to refrain from accessing private financing groups.
The humble beginnings
From nothing to impressive outputs is the best description of the Maseet-Maanus SLP Association. Their production site they established on their own is a 5×4-meter room made from bamboo and scrap materials attached to a neighbor's house. A small yet tidy production site where they keep their equipment for their deboning and smoked fish processing is a good start.
In a week, a single production cycle gives the Association a Php 1,200.00 net. The regular market outlet of their products are their neighbors and those in the adjacent barangays. Their products labelled MM's are sold during trade fairs sponsored by DSWD and other government agencies. At times, they need to produce bulk deboned bangus; a market outlet in Manila once ordered 73 packs of deboned bangus which gave them Php 6,600.00 gross amount.
The profit is deposited to the Association's bank account for additional capital and savings mobilization. The members benefit from this through loan scheme of the Association with a minimal interest. This system is imposed to address the basic daily requirements of the members and to gain additional capital for the Association.
LGU support
The enthusiasm seen among the beneficiaries engaged in this microenterprise encouraged the Local Government Unit (LGU) of Binmaley to support their training needs and other materials for their production site.
At present, LGU-Binmaley is already preparing for the appropriation of funds to repair an old barangay hall to be the new production site.
The food processing technologies training was coordinated with Bureau of Fisheries and Aquatic Resources (BFAR) and Pangasinan State University. Meanwhile, DSWD continues to monitor the improvement on the production process as to quality, marketing strategies, and product labelling.
The new mother-thing
The members revealed that they used to gamble or play cards and talk about each other's lives as past time activities or just stay at home to care for their children and spouses.
The coming of their bangus processing somehow changed their activities. They are now scheduling at least 1 day for their production. For two hours, they sell their products to their neighbors and to nearby barangays.
With this endeavor, they are given at least Php 100.00 as their wage in selling their own products. "Ang samahan at tuloy–tuloy na pag-angat ng aming negosyo ang iniisip namin. Dito na kami yayaman talaga (We think of the association and the continuing progress of our business. We will be rich with this)," said Rowena Tolentino.
The Association also served as a support group with the sharing of their problems and family concerns. Accordingly, they are happy that the earnings of their husbands are now augmented. Their minimal wage is enough to buy weekly needs on sugar, coffee, and other kitchen needs.
The group is also active in regular barangay clean up activities. Two (2) of the members are now trained as trainer on bangus products processing accredited by TESDA. (by: Iryn D. Cubangbang, Regional Information Officer)