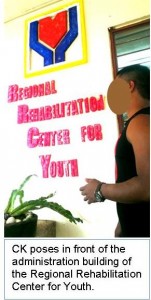 "Iba na kami. 'Yung dating problema ng lipunan naging iba na dahil sa kakaibang pagtulong na nakita ko mula sa gobyerno. (We are different now. We used to be problems of the society but have changed because of the help given to us by the government.)"
Thus, strongly and openly said by CK (not real name), an eight-year resident at the Regional Rehabilitation Center for Youth (RRCY) while his case is ongoing.
In his younger years, CK was among those who belonged to a group that drank and did deviant acts in the community. He was alleged of committing a heinous crime which led to his imprisonment in Pangasinan among 23 hardcore adult criminals. He experienced sleeping in a used carton box while mosquitoes bite and endured the smell of a toilet near him. Republic Act 9344, better known as Juvenile Justice Welfare Act, was not yet passed by legislators during this time.
Relief at RRCY
The coming of RA 9344 led his transfer to RRCY. "What a relief," said CK in an interview.
"Dito sa RRCY, malaya kaming kumikilos sa gusto namin. Hindi naka-box. (At RRCY, we have our freedom; we are not placed in a box.)" This difference also led him to learn from his mistakes, improve himself, and restore his regular functions as a youth.
CK attended several trainings including heavy equipment operation at St.John Bosco College of Northern Luzon. He also learned basic electronics which is now being maximized in the Center. He believes that his skills will be helpful when he returns home and lives peacefully with loved ones.
In school while Court's decision is suspended
CK dreams to travel by the sea and work for his family upon his return. This is now being worked out with his court-approved studies. He is now on his second year studying Bachelor of Science in Marine Transportation.
"Sa school, hindi ko itinatago ang aking pinagmulan kasi dito ako naliwanagan sa RRCY. (I do not hide my identity and experiences at the RRCY because I was enlightened here.)" As advised by the captain, through his schooling, this is now his chance to change for the better.
To change one's self for the better is a decision. This is the greatest challenge won by CK in his stay in the Center. (by: Iryn D. Cubangbang, Information Officer II)