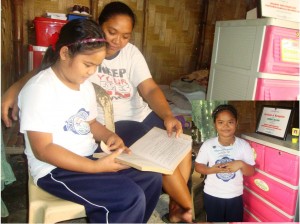 "Hindi hadlang ang kahirapan upang umunlad (Poverty is not a hindrance to progress)", says Jasmine Ollero, 10, the region's 1st runner-up in the recently concluded Search for Exemplary Pantawid Pamilya Children 2014.
Jasmine is a vibrant grade five pupil from Alipang, Rosario, La Union. She is the eldest among three whose father earns by doing various part time jobs as construction worker, farmer, and Barangay Tanod while the mother accepts laundry from neighbors to augment the family's income.
The family lives in a hut made of sawali and bamboo. However, they do not own the land. At the moment, they have received a notice to vacate the area and were already given one year ultimatum which adds to the family's day to day burden. The family is planning to relocate to a more distant area owned by Jasmine's grandmother.
Admirable daughter
Seeing the efforts of her parents, Jasmine tries her best to give back by becoming a good daughter and a responsible sister to her two younger brothers. Full of hope and dreams for her family, Jasmine wishes to become a teacher someday–a dream she hopes to fulfill through her positive attitude and optimism in life.
At home, Jasmine helps in doing various house chores such as cleaning the house, washing the dishes, cooking, and looking after her younger brothers. She takes on as best as she could these responsibilities that other children her age would usually ignore.
On Saturdays, Jasmine attends Bible studies. During summer, she earns extra money by helping her aunt sell streetfoods in the town plaza. Raised without luxury, Jasmine does not complain and instead finds ways to support herself. She seldom asks money from her parents for her school needs and would buy them from her own savings.
Model student
As a student, Jasmine is described to be very respectful, punctual, and diligent in school. She is a consistent honor student despite walking almost a kilometer everyday to and from school. This does not discourage her and instead drives her more to be diligent and determined.
Proud beneficiary
Jasmine's family considered themselves the luckiest when informed to become beneficiaries of the program. Jasmine, together with her siblings, was previously not participating in extra-curricular activities due to financial constraints hindering her from the top rank in school. Now, with the program's existence, her parents can already send them to different school activities and provide allowance and most school needs.
Being one of the program beneficiaries, Jasmine said, "Malaking tulong po sa aming pamilya ang binibigay na cash grant ng Pantawid Pamilya lalo na sa aming mga magkakapatid kaya pinagbubuti po namin ang aming pag-aaral upang hindi masayang ang ibinibigay na tulong ng ating gobyerno sa aming mahihirap. (The cash grant we receive is a big help to us that is why my siblings and I study hard so the government's assistance won't be put to waste.)"
The Exemplary Child
As the region's first runner-up in the Search for Exemplary Pantawid Pamilya 2014, Jasmine took home P10,000. For other children, toys, clothes, shoes and other material things would be their priority upon having such amount. However, Jasmine said that she would offer her prize for their electricity since they do not have their own connection. Jasmine said, "Masaya ako dahil naki contest lang ako, marami na kaming nagawa. (I am happy that through joining contests, I have already done a lot.)"
Jasmine was one of the 52 exemplary children nationwide who joined the previously held National Children's Congress. She actively participated in various NCC games and workshops. Accordingly, joining the said Congress made her gain self confidence, more friends, and additional knowledge as a child. In the workshops, she also learned teamwork, cooperation, and trust.
Thankful for being a beneficiary, Jasmine said, "Salamat sa pagpapatuloy ng programa. Sana hindi na alisin dahil maraming natutulungan na katulad naming mahihirap.(Thank you for continuing the program. I hope that it will still continue since it is helping many poor people like us.)"
Jasmine is a child determined to achieve her goals no matter how challenging life can be, a child worthy of praise and respect. (by: ALLAN O. LULU, Information Officer II/ Pantawid Pamilya)