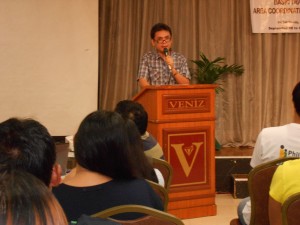 Graced by the presence of DSWD Asec Rodolfo Santos, the commencement for the first batch of trainees in "Basic Training for AreaCoordinating Teams" for KC-NCDDP was successfully held at Hotel Veniz, Baguio City, October 10, 2014.
Twenty-six (26) trained staff from four Area Coordinating Teams (ACT) from Ilocos Sur, namely:  Alilem, Burgos, Nagbukel, and Quirino,  received their certificates of completion after the 10-day training and workshop on the process, procedures, frameworks, systems, and other related topics relevant to the implementation of the KC-NCDDP in the Region. The event was also witnessed by batches 2 and 3 training participants. The exercise even became more meaningful with the attendance of KC-NCDDP National Program Manager Benilda E. Redaja, Assistant Regional Director for Operations and KC-NCDDP Regional Program Manager Marlene Febes D. Peralta, KC-NCDDP Deputy Regional Program Manager Orson C. Sta. Cruz, Regional Program Coordinator Virginia P. Sesay, National and Regional Specialists, Officers, resource speakers and facilitators.
Asec. Santos spoke to the completers and upcoming completers of the training, giving them inspiration not to give up to the challenges that they are about to come across subsequent to their deployment after their training. He also personally awarded the certificates to the training completers, together with KC-NCDDP NPM, Dir. Redaja, ARDO/RPM Peralta, and DRPM Sta. Cruz.
The commencement exercise lasted for an hour and was immediately followed by dinner. A well-participated "Socialization" activity followed thereafter. The activity was attended by all the participants from all three batches and the National and Regional Officers and Specialists, training resource speakers and facilitators.  Every ACT and special groups who also attended the training prepared a presentation. Games, food and fun were served and enjoyed by all the participants.
The night's intention to recognize the first tread of the KC-NCDDP staff was attained. The program's milestone has just begun to root. (by Jomara S. Chan, KC-NCDDP SMO)