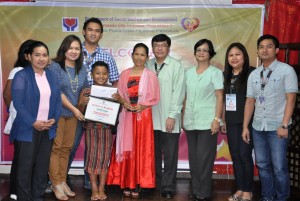 On its third year of recognizing families who have religiously followed program conditionalities, embodied Filipino values and strong family ties, DSWD – Field Office 1 named the Tusnoy Family from Adams, Ilocos Norte as the regional family winner in the Search for Huwarang Pantawid Pamilya 2014.
Tusnoy family headed by Isabel, a single mother, is focused on providing best for her 9-year old son and 80 and 81-year old parents. Isabel is engaged in various community activities as a citizen, a Parent Leader and as a member of their IP group. The family's income is sourced out through her "bugnay" wine and vinegar making activities and multi services as tour guide, cook, masseuse and home stay care taker.
Learning from her Family Development Sessions (FDS), Isabel saves and spends properly to prepare for the future. She even opened a savings account in a Cooperative. She is also a proud example and a leader to her co-beneficiaries. Isabel said, "Kaya kong harapin ang anumang problemang dumating dahil sa diskarte"
Opened to beneficiaries who are at least two years in the program, DSWD conducted provincial and regional validations and judged families based on 1) strong family ties; 2) practices and promotes healthy living and taking care of the environment; 3) active involvement in community activities; 4) inspires other members of the community and; 5) strives to improve their living condition amidst difficult situation. This is to encourage Filipino families maintain a good standing in the community and serve as inspiration to others.
DSWD – Field Office 1 Regional Director Marcelo Nicomedes J. Castillo said that the activity confirmed the power of convergence, resource mobilization and good governance in improving the lives of the beneficiaries.
Other regional finalists include Oriente family from Santol, La Union; Long-es family from Suyo, Ilocos Sur and Pulido family from Laoac, Pangasinan.
The Tusnoy Family will be the region's official entry to the National Search for Huwarang Pantawid Pamilya who will eventually serve as family ambassador of the program.
Finally, Assistant Regional Director Marlene Febes D. Peralta encourages each family to be more productive in bringing excellent results in the community and become inspiration to others.(by: ALLAN O. LULU, Information Officer II/ Pantawid Pamilya)