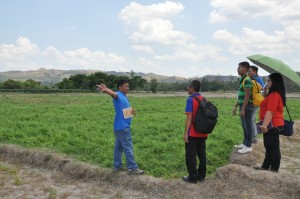 DSWD – FO1, the San Roque Power Corporation (SRPC), and the Local Government Units (LGUs) of San Nicolas and San Manuel, Pangasinan signed a Memorandum of Agreement (MOA) to converge various initiatives on livelihood projects eventually providing economic upliftment to Pantawid Pamilya beneficiaries.
Through the Public-Private Partnership (PPP), SRPC continuously help Pantawid Pamilya project-affected persons (PAPs) through its Corporate Social Responsibility programs to improve the socio-economic status of beneficiaries.
DSWD through its community-based capacity building program, the Sustainable Livelihood Program (SLP), operates on a two-track system: 1) micro-enterprise development; and 2) the employment facilitation track.
There are a total of 1,099 identified Pantawid Pamilya beneficiaries in the 6 barangays of the two said LGUs. Some of these families are continuously being helped by the SRPC through its programs.
Most of the household members livelihood preferences in the covered barangays are on poultry and livestock raising, mircro-enterprise and agricultural activities.
Currently, four hundred twenty seven (427) are SRPC microfinance beneficiaries who were lent with P5,000 – P10,000 to start their livelihood activities of their choice. Through its trainings, the SRPC also teaches beneficiaries to save for their future.
Rosalinda Serquenia of Sitio Camanggan borrowed P5,000 in 2010 to pursue farming and support farming needs. Accordingly, 90 cavans will be produced from a hectare of harvest. This helped support the family's needs and eventually added by the assistance coming from Pantawid Pamilya.
DSWD and SRPC upcoming plans and activities for Pantawid Pamilya beneficiaries are being discussed for implementation.
PPP strategy is continuously complementing the need for sustainability of the initial assistance provided to the beneficiaries of the Pantawid Pamilya.  (by: ALLAN O. LULU, Information Officer II/ Pantawid Pamilya)