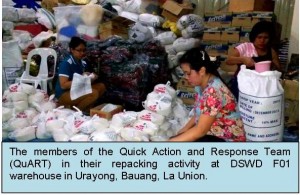 As a ready response to the effects of 'Typhoon Glenda', DSWD Field Office 1 is ready to augment requests of Local Government Units (LGUs) with its 2,338 stockpile family food packs and 4,000 family food packs prepositioned in the provinces of Ilocos Norte, Ilocos Sur, La Union and Pangasinan.
At least 7,900 boxes of bottled mineral water were distributed to 23 Local Government Units, Provincial Operations Offices, and (5) centers and institutions.
Along with these, non-food items worth Php 6 M which include hygienic items, mats, blankets, water jugs, are kept at the warehouse in Urayong, Bauang, La Union where the repacking activity is also being done.
As of today (July 16, 2014), the Quick Action and Response Teams (QuART) are still activated in the Field Office and in the Provincial Operations Office in all the provinces with the SWAD Teams (Social Welfare and Development Teams).
As observed during ocular inspections, families in the coastal areas of Ilocos Sur left their homes and sought refuge with their families in a safer ground.
"The QUART will remain on post 24/7 until the typhoon signal is lowered, Director Marcelo Nicomedes J. Castillo ordered. ( by: Iryn D. Cubangbang, Information Officer II)