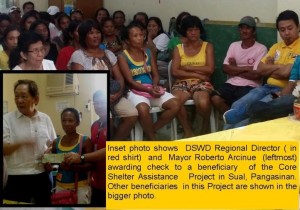 Fifty-one (51) families whose houses were toppled by fire in Sual, Pangasinan will soon own their new houses so called 'core shelter units' with DSWD's Core Shelter Assistance Program (CSAP).
Construction materials amounting to Php 70,000.00 is allocated for each core shelter. The site development and other needed logistics will be the counterpart of Local Government Unit of Sual, Pangasinan.
Recently, Php 3,570,000.00 assistance was awarded to these families with DSWD Regional Director Marcelo Nicomedes J. Castillo and Mayor Roberto L. Arcinue.
Also, a 10-day 'Cash For Work' was implemented for developing the site. Each family engaged with the 10-day work received Php 1,900.00 or a sum of Php 96,900.00 for all the beneficiaries.
Mayor Arcinue believes that with CSAP, the 'building of decent homes to the less fortunate families is a dream come true."
The CSAP could be well implemented with the 'convergence and partnership of the Local Government of Sual and National Government Agencies, thereby, protecting the people from fangs of poverty while improving their resiliency, Dir. Castillo explained.
'Converged Efforts on CSAP
Combined resources of the Local Government Unit, DSWD, Neighbourhood Association Shelter Assistance (NASA), and National Housing Authority (NHA) will soon complete these 51 core shelter units in Sual, Pangasinan.
The beneficiaries are grouped into NASA where will open a bank account for fund management. Signatories will compose of a Treasurer, NASA President and DSWD Staff (SWAD Leader).
A lot and Php 15,000.00 cash were provided by LGU- Sual while the site development funds was given by the NHA. ( by: Iryn D. Cubangbang, Information Officer II)